Congress demands probe in Gadkari snooping issue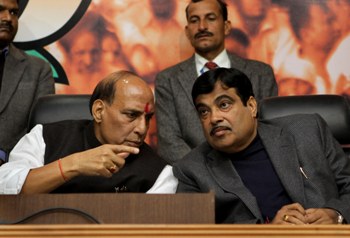 The Congress Monday said it suspected that there might have been snooping of union minister Nitin Gadkari and demanded an investigation into the issue.
Without targeting Prime Minister Narendra Modi by name, Congress spokesperson Shakti Singh Goyal said: "The one who snooped on people in Gujarat is now in Delhi and hence incidents of snooping are now also taking place in Delhi."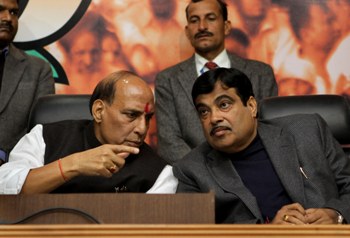 Nitin Gadkari with Rajnath Singh
Goyal was referring to widespread media reports Sunday that said a listening device was found in Gadkari's house.
Gadkari, however, termed the reports "highly speculative".
Modi's aide Amit Shah, now the Bharatiya Janata Party president, is accused of illegally snooping on a woman architect in Gujarat. - IANS