PepsiCo's former CEO Indra K Nooyi presented with honorary doctorate at Yale University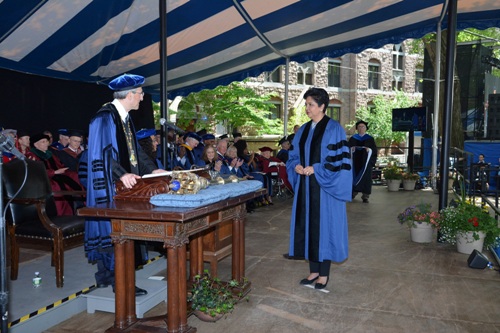 Former CEO of PepsiCo, the Chennai-born Indra K. Nooyi received honorary degree at the Yale University Monday, a press release said. Nooyi had received a master of public and private management from Yale in 1980 and was a fellow of the Yale Corporation from 2002 to 2014.
A self-proclaimed "bit of a rebel," as a child Nooyi played in a rock band and climbed trees — far from typical activities for a girl in her birthplace of Madras (now Chennai), India. Encouraged by her family to pursue her own path, she studied physics, chemistry, and mathematics at Madras Christian College, earning her bachelor's degree in 1974. Two years later, she completed an M.B.A. from the Indian Institute of Management in Calcutta.
Nooyi receiving honorary degree at the Yale University

Nooyi began her career in India at Johnson & Johnson and the textile firm Mettur Berdsell, Ltd., before leaving to the United States to continue her business studies at the Yale School of Management.
She then held senior positions at The Boston Consulting Group, Motorola, and the Zurich-based industrial technology company Asea Brown Boveri. From 1994 until her appointments as chief executive (in 2006) and chairman of the board (in 2007), she ascended through the ranks of PepsiCo, from which she retired in 2018.
Under her leadership, PepsiCo followed the principle of "performance with purpose," responding to the needs of the world by making more nutritious products, limiting its environmental footprint, and empowering its associates and the communities it serves.
Nooyi was recently elected to the board of Amazon, on whose audit compensation committee she sits. She is a member of the World Economic Forum board of trustees and of the American Academy of Arts and Sciences; an independent director of the International Cricket Council; and chair of the compensation committee at Schlumberger, an oilfield services company, on whose board she serves.
One of 25 women to have led a Fortune 500 company, she has appeared frequently on the Forbes and Fortune rankings of the world's most powerful women.
In 2007, Ms. Nooyi was recognised with the Padma Bhushan, India's third-highest civilian honor, for "distinguished service of a high order." That same year, she was named an "outstanding American by choice" by the U.S. State Department. She and her husband, Raj Nooyi, have two daughters. – TWL Bureau