Sunita Narain questions allocation on Ganga conservation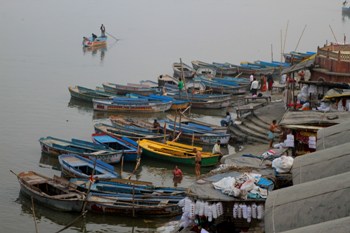 Environmentalist Sunita Narain has raised questions on allocations on clean energy and Ganga conservation that were announced by Finance Minister Arun Jaitley in his maiden budget Thursday.
On enhanced clean energy cess on coal, which has been increased from Rs.50 to Rs.100 per tonne, Narain - also the director general of the Centre for Science and Environment - said Jaitley did not spell out what will be done with this money.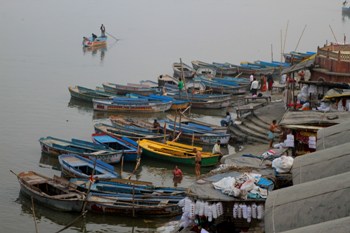 Boats at the bank of River Ganga at Garhmukteshwar (Brijghat) in JP Nagar, Uttar Pradesh (Photo: Indian Photo Agency)
"Currently, roughly Rs.3,000-3,500 crore is collected in the National Clean Energy Fund, but not much is spent. The Fund is important as it signals the need to make dirty coal more expensive to use. But the money is frittered away in many small projects," Narain said in a statement.
She expressed her reservations on duty exemptions and other mentions of solar and renewable energy in the budget.
"What the budget does not appreciate is the fact that the biggest future of solar energy in the country will be in decentralised and off-grid solutions - smaller power plants that provide clean energy to millions across India's grid and remote villages that have electricity lines but no power.
"Instead, budget 2014 falls back on the 'big' solar plants - announcing Rs.500 crore for ultra mega solar power plants," Narain said.
On the cleaning Ganga fund enhanced to Rs.2,037 crore, Narain said Jaitley said nothing about the re-direction needed to clean the river.
"Even the previous UPA (United Progressive Alliance) government had made funds available, even secured a loan of Rs.4,600 crore from the World Bank for Ganga cleaning. But all this money has not cleaned the Ganga because the approach is flawed.
"It focuses on building sewage treatment plants, which does not work in our poor and largely un-sewered cities," she said. - IANS