Kamaraj: Tamil Nadu's once towering Congress leader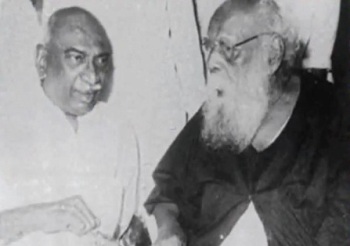 Book Review
By M.R. Narayan Swamy

Book: Kamaraj: The Life and Times of K. Kamaraj; Author: Bala Jeyaraman; Publisher: Rainlight/Rupa; Pages: 114; Price: Rs.295
Kumarasami Kamaraj was a rarity in Indian politics, and undoubtedly the tallest leader the Congress ever produced in Tamil Nadu.
A school dropout and freedom fighter who went on to become the Congress president despite knowing no Hindi and no English, he played the kingmaker by picking two prime ministers: Lal Bahadur Shahstri (after Nehru died) and Indira Gandhi (after Shastri's death).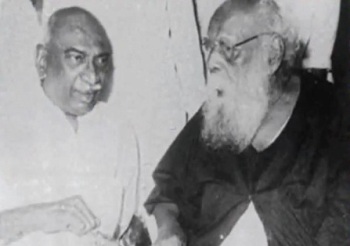 Kamaraj (l) with another icon from Tamil Nadu, social revolutionary Periyar
Despite his national stature, Tamil Nadu still remembers Kamaraj fondly for the governance he provided as chief minister from April 1954 to October 1963.
"In present-day Tamil Nadu, the phrase 'Kamarajar Aatchi' (Kamaraj rule) is used in the same context as the term Ram Rajya." His genuine concern for the poor was matched only by his scrupulous honesty and integrity.
During the nine years Kamaraj ruled, Tamil Nadu became India's most urbanized and the third most industrialized state.
His pioneering reforms in education included the noon meal scheme aimed at wooing children from poor families to schools (which MGR later perfected). Secondary education was made free.
By 1961, all major rivers in the state had been harnessed; Tamil Nadu became self-sufficient in food production from being a food deficit state.
An excellent judge of character, Kamaraj headed a lean council of ministers and let bureaucrats work without political interference, providing Tamil Nadu "with arguably its best government so far".
Kamaraj had humble beginnings. Son of a coconut seller, he became, against his family's wishes, a Congress volunteer at age 16 and formally joined the party five years later.
He was a born fighter and a perfect organizer. The British jailed him four times, making him a known face across Tamil Nadu. Rising through the ranks, he became the Congress president in Tamil Nadu in 1940.
Kamaraj took on the wily C. Rajagopalachari in independent India, forcing him to resign as chief minister; it was a replica of the way he had a showdown with Mahatma Gandhi earlier, with the latter backing off.
A year before Nehru died in 1964, Kamaraj stepped down as chief minister and unveiled what came to be known as the "Kamaraj Plan" to revitalize the Congress.
It involved six chief ministers and six cabinet ministers resigning to do party work. Not everyone was happy. A member of the "Syndicate", Kamaraj picked Shastri to succeed Nehru in 1964, spiking the dreams of right-winger Morarji Desai.
He did the same with Indira Gandhi in 1966. But the bachelor politician later rubbed Indira Gandhi the wrong way and joined the rival Congress-O - along with Desai - after Nehru's daughter broke the Congress to teach the "Syndicate" a lesson.
By then, anti-Hindi riots had swept Tamil Nadu, drastically weakening the Congress and allowing the DMK to rise and rise.
Kamaraj was defeated, for the first time, in the 1967 assembly election that brought the DMK to power in Tamil Nadu. Kamaraj managed to return to parliament twice but he was never the same again.
Efforts for a rapprochement with Indira Gandhi failed. Until he died on Mahatma Gandhi's anniversary in 1975, the "brilliant, decisive, persuasive and vengeful" politician refused to make a deal with the Dravidian parties.
In 1976, he was posthumously conferred the Bharat Ratna. In just 99 pages of text, this is one of the best biographies I have read in recent times. - IANS
(M.R. Narayan Swamy is Executive Editor of IANS. The views expressed are personal.)