If Tamil is a regional language, Hindi is also one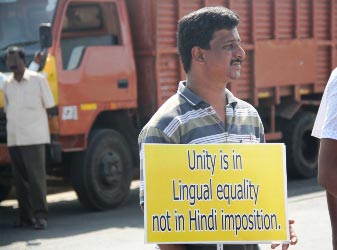 Noted writer and journalist Gnani Sankaran's remarks in a popular TV show that if Tamil was called a regional language, then Hindi too was one, has created ripples in social media, where users applauded him for giving a 'fitting reply' to Hindi chauvinists.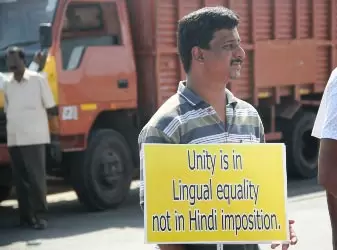 An anti-Hindi protestor in Chennai
Taking part in 'Big Fight' a popular show on NDTV on Hindi's status as an official language in India, Gnani registered his protest when a fellow panelist began to speak in Hindi.

He demanded that she talk in English as he was unable to understand the language. But the panelist refused to speak in English as a matter of 'principle' in spite of anchor Vikram Chandra requesting her to do so, pointing out to her that it was an English program.

Gnani then started to speak in Tamil to make his point as his pleas had no effect on the panelist. Dalit activist and writer Kancha Ilaiah supported Gnani and said that he would speak in Telugu if the panelist continued to speak in Hindi.
Gnani traced the historic opposition to Hindi in Tamil Nadu and said the anti-Hindi agitation in the State began before independence, in 1937.

He said the Congress recognized quite early the fact that different linguistic nationalities existed within India and a federal polity had to be created. (The Congress was in power in Madras Presidency when the first anti-Hindi agitation was launched in the late 1930s.)

He said in Tamil Nadu there has been opposition to imposition of Hindi, but there was no opposition to anybody learning any language of their choice.

Gnani said: "We are also opposed to calling our language as 'regional language.' For that matter all languages in India including Hindi are regional languages. Hindi belongs to one region. Marathi belongs to another region and Bangla belongs to another region.

"India is a country of regions. So, all these (languages) have to be only properly called as national languages."

Meanwhile, NDTV continued its propaganda in support of Hindi and ran a program today, 'We want Hindi – In Tamil Nadu, New Demand Speaks language of Change.

Rajkumar Palaniswamy of Tamils Cultural Centre said it was unfortunate that NDTV was doing such programs when activists across the country were coming together to draft a linguistic equality bill, which is intended to give official language status to all 22 scheduled languages of India including Tamil on par with Hindi. – TWL Bureau