Now Maoists distribute books, pens among poor
Imran Khan
&nbsp | &nbspPatna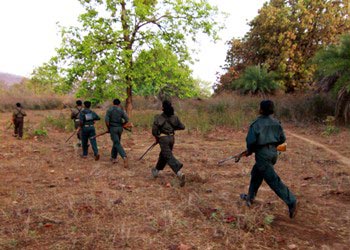 In perhaps a change of tack, Maoists in Bihar are distributing books, notebooks, pens and pencils to the children of the poorest of poor in a bid to win over the confidence and sympathy of the people in rural areas, an official said.
Maoists have already distributed books among hundreds of children in over a dozen villages on the border of Jamui and Lakhisarai districts, both of which are considered to be their strongholds.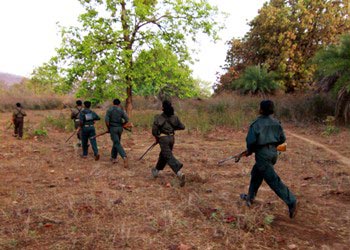 An undated photo of a group of Maoists somewhere in Chattisgarh (Photo: Indian Photo Agency)
"It may be part of their move to win over the poor people, who are not happy with them," Jamui Superintendent of Police Jitendra Rana told IANS.
"By providing free books, it seems Maoists have at last realized that poor children also need education. But Maoists must also change their approach of targeting schools in rural areas," Rana added.
According to an education activist known for his close links with the Maoists, the rebels also plan to distribute books in other parts of the state, including Gaya and Aurangabad districts.
"Maoists are likely to distribute books among children as it is part of their agenda to spread literacy in villages, known to be their strong base," he said.
Additional Director General of Police (Law and Order) S.K. Bhardawaj said the force will monitor the Maoists' new tactic.
"Spreading education is a positive development but Maoists must be doing all this to regain sympathy and confidence that they have lost," he said.
Maoists blasted schools where the paramilitary forces were camped during the just concluded Lok Sabha polls.
In the last five years, dozens of schools have borne the brunt of Maoist attacks in different parts of the state. The Maoists say the schools were targeted because they were used to shelter paramilitary forces during their operations against them. - IANS