Dalit Everest heroes feted in New Delhi
Orchie Bandyopadhyay
&nbsp | &nbspNew Delhi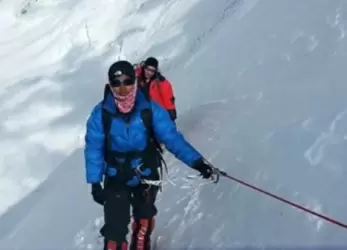 Malavath Poorna and S Anand Kumar were felicitated for their historic feat in climbing the world's tallest peak, Mount Everest, by the National Campaign on Dalit Human Rights (NCDHR) in association with the All India Dalit Rights Federation, the Centre for Social Equity and Inclusion, AP Bhavan Employees' Welfare & Cultural Association, and AP Bhavan SC/ST Welfare Association at function in New Delhi Saturday.
Malavath Poorna on Mount Everest
The function was held at Andhra Bhavan in New Delhi and was attended by Union Civil Aviation Minister Ashok Gajapthi Raju and members of parliament Bandaru Dattatreya, K Kesava Rao and Rapolu Anand Bhaskar.
About 75 underprivileged children from Dalit and Adivasi communities in Delhi attended the ceremony. The children even moderated part of the ceremony.
"It was very difficult to climb the steep mountains but when I reached the top I felt great and proud. I hoisted the Indian flag and the Telangana flag and placed Dr BR Ambedkar's and Shankaran's photo," a beaming Poorna told the audience
For the 13-year-old tribal girl, opportunities are very rare. But undeterred by the adverse circumstances, she still pursued her dream to reach the top.
Poorna, whose father works as a farm labourer, is a Class IX student, while Anand, whose father works as a mechanic in a cycle shop, is in Class XI. They both hail from Khammam district of Telangana.
Anand spoke about the rigorous training they had to undergo. "I had never trekked in my life like this before," he said.
Last year, the Andhra Pradesh Social Welfare Residential Educational Institutions Society chose the duo from among 150 children from economically weak families who were identified and shortlisted for advanced training in adventure sports.
"We believe that if Dalit children are given equal opportunities, they can excel anywhere. They only need support to utilize these opportunities effectively," said Beena Pallical, National Co-ordinator- Campaigns, NCDHR.
"We dream of an India where every child's potential is realised so that they can be where Poorna is today. At the top," added Annie Namala of the Centre for Social Equity and Inclusion.
"We are very proud of Poorna's achievement, she has done the entire country proud at the tender age of 13," said Karumanchi Anand Rao of the AP Bhavan SC/ST Welfare Association.
Poorna is now not only on the top, but also a role model for other children from similar backgrounds. At the function, she was seen interacting with the children.
"She is my role model because she has made an identity for herself and has done our country proud. I too want to be like her someday," said Kanchan, a student of Rajkiya Sarvodaya Kanya Vidyalaya.