Tamil Nadu girls win Gold at the Dutch Youth Regatta!
Shantha Ravikumar
&nbsp | &nbspChennai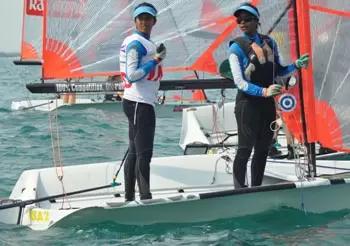 Varsha Gautham and Aishwarya Nedunchezhiyan from Tamil Nadu Sailing Association (TNSA) have won the Women's Gold in a highly competitive fleet of 36 boats at the Dutch Youth Regatta that concluded last week at Workum, Netherlands.
The Dutch Youth Regatta is one of the most prestigious annual sailing events in which the best European youth sailors participate, and the competition is fierce.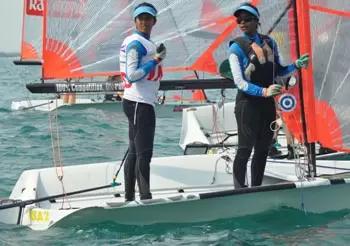 The duo has now set its eyes on the Asian Games at Incheon, Korea in September
The Tamil Nadu duo finished 14th overall in the 29er class of boats, 2 places ahead of the top European Girls team from France and first among the 9 all-girl teams. It is one of the best performances for India so far in international sailing.
The 29er class of boat is a high performance two-handed skiff, an international youth class that demands a high degree of athleticism, skill and fitness.
The feat is all the more remarkable because Varsha had broken two bones in her left foot less than 3 months back. This gutsy girl was back on water in under two weeks with her cast waterproofed.
She and her team mate Aishwarya who worked harder to make up for the broken foot, won the Asian Games Selection Trial held in Visakhapatnam in early April, with Varsha's foot still in cast.
In May, the two girls participated in an event at Lake Garda, Italy in the 49er FX, the Olympic class skiff for women in which they have already started training.
This was their first Olympic class event. Varsha, who had come off her cast, injured her foot once again and the two girls could not compete after the first day.
Despite Varsha's injury, and a bit of gear failure at the Dutch Youth Regatta, the girls came up with a stunning performance to win the Gold beating the top favourites from France.
The girls have just got back after their Gold winning performance and will be back training hard in a couple of days. They are coached by Pete Conway, the Chief National Coach for sailing in India.
Their excellent performance in the Dutch Youth Regatta augurs well for their prospects at the Asian Games at Incheon, Korea to be held in late September. Later this month they will be participating in Kiel Week, one of the most important mega-sailing events of the world and also in the Youth World Championship.
They will be also taking part in the 2016 Olympic qualifying events this year in the 49er FX class. This class has been added for women in the Olympics 2016 for the first time.
The girls are very young still with Varsha only 16 and Aishwarya 18. They are doing equally well academically, Aishwarya has finished school and is in college while Varsha does home schooling and finished class ten last year with 83 percent marks.