Delhi professor kept in solitary confinement: PUCL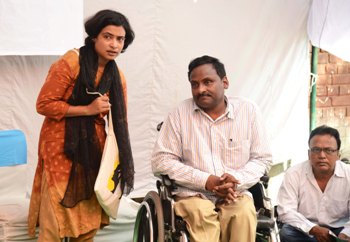 The People's Union for Civil Liberties (PUCL) has condemned "the unprovoked and unconscionable use of force by the Gadchiroli police" in the arrest of Delhi University Professor GN Saibaba last week, and demanded the intervention of the National Human Rights Commission (NHRC) in the matter.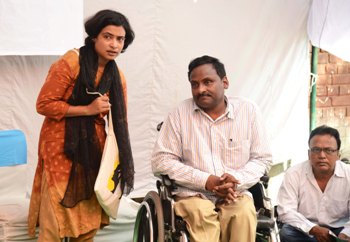 Saibaba has been agitating against the government's anti-Maoist 'Operation Green Hunt' in central India (Photo: Indian Photo Agency)
PUCL National General Secretary Dr. V Suresh and National President Prof. Prabhakar Sinha made the demand in a statement Thursday and further sought a "comprehensive enquiry into the flagrant illegalities committed by the Gadchiroli police."

The statement said: "PUCL is shocked to know that Prof. Saibaba is being kept in solitary confinement and deprived of medicines and personal assistant. He also has been deliberately denied access to western closet causing immense discomfort and further medical complications."

The PUCL said in view of Saibaba's "severe 90% locomotor disability and cardiac problem" the NHRC should immediately intervene and "get Prof. Saibaba released from prison so that he can get expert medical attention."

Saibaba was arrested by a team of Maharashtra Police for his alleged involvement in Maoist activities.

"GN Saibaba, who teaches English in DU, was arrested from his house located in the varsity's north campus Friday afternoon," Deputy Commissioner of Police Sindhu Pillai had stated.
The wheelchair-bound professor-cum-activist was arrested and taken to Maharashtra. The police team searched his house and seized some documents.

Sources said the professor was arrested following the arrest of Jawaharlal Nehru University student and activist Hem Mishra for his alleged links with Maoists in Gadchiroli district of Maharashtra.

Saibaba has been agitating against government's anti-Maoist "Operation Green Hunt" in the tribal hinterland of central India.

The teachers association of DU condemned the arrest and said he was arrested without any warning and notice from the middle of a street.

They said his wife was also informed very late. TWL Bureau with inputs from IANS