Chennai academic names 18 SL war criminals, indicts 1 Indian
P C Vinoj Kumar
&nbsp | &nbspChennai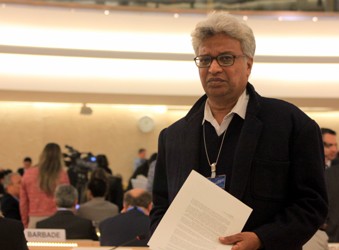 Ramu Manivannan's recently released book, 'Sri Lanka: Hiding the Elephant,' has named 18 top Sri Lankan nationals including President Mahinda Rajapaksa, Defence Secretary Gotabaya Rajapaksa, former commander of Sri Lankan army Sarath Fonseka, and External Affairs Minister G L Peiris as 'War Criminals,' and indicted two UN officials for their role during the last stages of the Sri Lankan civil war that concluded with the Mullaitheevu massacre of Tamils in May 2009.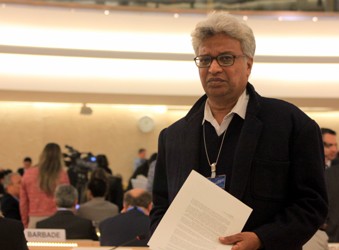 Manivannan's book is a comprehensive narrative on the genocidal war in Sri Lanka
One of the indicted UN officials is an Indian, Vijay Nambiar. The book states: "Vijay Nambiar, the Chef de Cabinet from 2007 to 2012, was a key official in shaping UN's Sri Lanka policy. He is widely accused of complicity in the 'Whiteflag' incident where several surrendees were executed by the Sri Lankan military after being given assurances of safety by international actors."

Manivannan's 976-page book, a comprehensive narrative on the genocidal war in Sri Lanka, has reproduced vital documents including the two important UN reports – Report of the Secretary General's Panel of Experts on Accountability in Sri Lanka, and Report of the Secretary General's Internal Review Panel on United Nations Action in Sri Lanka –the reports of Amnesty International, Human Rights Watch, International Crisis Group and the Tamil National Alliance.

An expert on Sri Lankan affairs, Manivannan is Professor and Chair at the Department of Politics and Public Administration, School of Politics and International Studies, University of Madras.

In the book, the author has made a solid case to back his argument that what happened in Sri Lanka was indeed genocide against the Tamils.

As Manivannan states: "In recognition of the war crimes and crimes against humanity committed by the Sri Lankan government and its authorities, we need to ask whether there is a unique case or a distinct crime here. The answer is, 'YES!'

"The genocide of Tamils in Sri Lanka has taken place over a period of time involving several steps and strategies, and this includes continuous dismantling and destruction of the essential foundations of human life of the Tamils in Sri Lanka.

"To be precise, the Sri Lankan government has employed the 'doctrine of double effect', the brutal military resolution of the ethnic conflict combined with the long term strategy of ethnic cleansing.

"This 'doctrine of double effect' has been the most unmistakable exhibition of the genocidal intent of the State and its Sinhala nationalism. The genocide of Tamils in Sri Lanka has taken place over a period of time involving several premeditated steps and concealed strategies. This includes organized attack and destruction of essential foundations of human life common to all civilized human societies."

Interestingly, the book reveals that Gotabaya Rajapaksa was a student of the very same University that has now named him as a war criminal.

According to the book, Gotabaya obtained his Masters Degree in Defence Studies from the University of Madras in 1983, after his Staff Course at the Defence Services Staff College, Wellington, India.

Manivannan states in the Preface: "We feel sad to record that Gotabaya Rajapaksa also walked through this distinguished University. He is now considered by the international society as a war criminal who deserves to be tried through an international mechanism among others accused of similar or more grave charges. We pray, without prejudice, that he meets his justice one day."

Manivannan has published the book from his personal funds. They have printed 500 copies of the book, which is now available for sale.

The book is priced at Rs.2500 (inclusive of postal charges within India).