AAP's Khetan vows zero corruption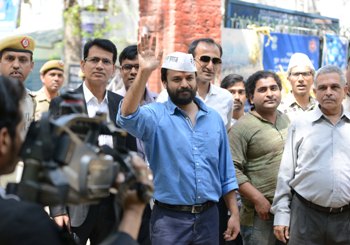 AAP candidate for New Delhi seat Ashish Khetan Wednesday said he would involve the people in spending of public funds for projects and ensure that "dark spots" in the constituency are well lit to prevent Nirbhaya-like incidents.
Releasing his "constituency manifesto", the former journalist also promised that if elected, he would ensure "zero corruption" and also push for bringing Delhi Police under the city government.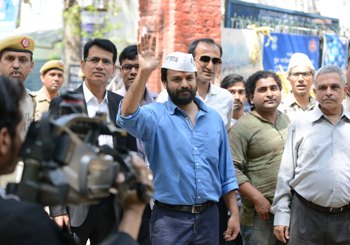 Khetan is pitted against Ajay Maken of the Congress and the BJP's Meenakshi Lekhi (Photo: Indian Photo Agency)
"The police should be accountable to the Delhi chief minister and to the people. We will fight for it," he said at a press conference at the Aam Aadmi Party headquarters.
On the spending of public funds, he said: "In my meetings with people across the constituency, I have realised that whether in a J.J. colony or Greater Kailash, the aam aadmi has no say in the spending of public funds," he said.
If AAP comes to power, it will aim to bring out the Jan Lokpal Bill, he said.
"I will make sure as MP that pressure is brought on the government to take effective measures against corruption," he said.
Terming security of women as a "very important issue", Khetan said he would also fight for the establishment of women and child welfare centres in each assembly segment of the constituency.
Khetan is pitted against Ajay Maken of the Congress and the Bharatiya Janata Party's Meenakshi Lekhi.
Referring to the controversy over redevelopment of Kathputli Colony, he said he would ensure that builders are not given land there.
He also promised to provide water and power at "affordable" rates and fight to eradicate "corruption" in government departments.
Promising "free 20 kilolitre piped water per household per month through metered connection" and power up to 400 units per month at subsidised affordable rates, the AAP leader also promised to improve education, healthcare and sanitation.
Khetan also promised to address "unjust service conditions and unfair income disparities between government servants in lower and higher echelons", tackle lack of government accommodation and ensure implementation of the 7th Pay Commission. - IANS