Army atrocities in Tamil areas, Wigneswaran speaks out
Sri Lanka's Tamil population in the North continues to live in an environment of fear and oppression in spite of claims that the situation has improved after the formation of the TNA-led government in the Northern Province.
Going by the Northern Province Chief Minister C V Wigneswaran's speech at a conference in Colombo Thursday the army still holds complete control of the region and the elected government has little powers.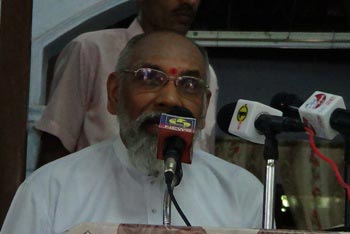 Northern Province Chief Minister C V Wigneswaran (Photo Courtesy: Global Tamil News)
Delivering the keynote address at the conference on 'post war socio-economic development and constructive engagement with Sri Lankan Diaspora,' the Tamil CM accused the army of engaging in "large scale agriculture and commercial activities, including the operation of golf courses and tourist resorts."
He said the army acted as "a barrier for the entry of civilians into those areas and forces out competition from civilians. Even the tea kiosks on your way down A9 have been opened by Army men or their relatives or proxies."
He further added that "the military presence directly and indirectly leads to numerous vices and has forced women into prostitution."
Wigneswaran also said the Army was interfering in the provincial administration, and taken over 6000 acres of land.
The Army, he said, had "completely destroyed the habitations of the locals and have started constructing palatial buildings, golf courses and swimming pools to install comfortably the leaders of the Government and the Armed Forces when they visit the North."
He stated: "They cultivate the lands of the unfortunate displaced in the Wanni and sell at a price the produce from the people's own lands to the very same owners. More and more lands are being grabbed, especially in the Vavuniya, Mullaitivu and Mannar Districts with the backing of the Armed Forces."
The Chief Minister also recounted a humiliating experience when he was refused to inspect two Hindu temples and a school that he said had been "razed to the ground the other day by the Army."

"When I went there as the Chief Minister to see what had happened, I was politely turned back to obtain the permission of the Ministry of Defence.

"To my knowledge, my Sinhala friends from the South who visited the Tal Sevana, a Hotel functioning under the Security Forces Headquarters - Jaffna, had no difficulty in passing that Army barricade without any such permission from the MOD being insisted upon," Wigneswaran said. – TWL Bureau
.