AAP posts video of police brutality, three cops suspended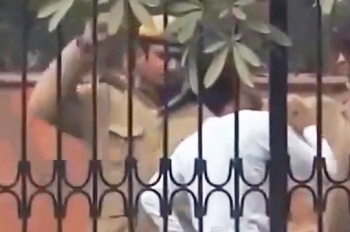 Delhi Chief Minister Arvind Kejriwal's Aam Aadmi Party (AAP) Friday released a video showing policemen beating a man and pulling out his wallet. Three policemen have since been suspended.
This comes just days after Kejriwal led a two-day protest against Delhi Police earlier this week.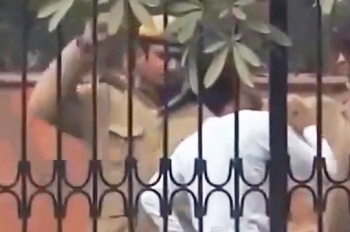 A video grab from the AAP footage
The AAP posted the video online with a message that asked Home Minister Sushilkumar Shinde whether action would be taken against the policemen caught on camera.
The party said the footage was shot by a "vigilante" near Delhi's Red Fort Jan 12. It shows two uniformed men beating a man with a stick, pulling out his wallet and taking money from it.
"Just after the video was uploaded, the police came into action and three cops were suspended," Delhi Police spokesperson Rajan Bhagat told IANS.
"Delhi Police is known to be brutal. Every now and then we hear stories about Delhi Police's brutality. Here is another such video. Not only does the video clearly show Delhi Police's inhuman behaviour, but also the urban legend of police extorting money is caught on camera," AAP said in its message.
Kejriwal held a traffic-stopping 33-hour protest this week to demand action against Delhi Police officers who had refused to make arrests ordered by his ministers.
The chief minister has blamed the force for the rising crime in the capital, and demanded that control of the force, which rests at present with the union government, be transferred to the state government. - IANS