Travel bloggers compete to head to Kerala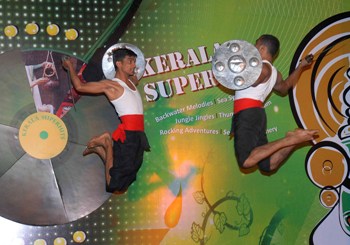 Come March, some of the best travel blogs on the internet would see content on Kerala, thanks to a unique initiative of the Kerala Tourism Department.
Kerala Tourism received many entries from across the world for an online campaign to bring the world's best bloggers to the state for an on-the-road experience.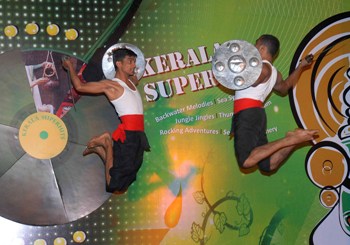 Artistes performing Kalaripayattu, a martial art form, at a campaign to promote Kerala Tourism in Mumbai (Photo: Indian Photo Agency)
"Kerala Blog Express", a two-week road journey from the south of the state to the north, on luxury bus, will be undertaken starting March 1 by the winners of this campaign-contest.
Registration for "Kerala Blog Express" ended Friday.
Twenty-five top bloggers from around the world will be selected for the road journey, through online voting on the website www.keralablogexpress.com, specially created by Kerala Tourism for this initiative.
The website, launched recently, has already received over 100,000 visits, and some of the top travel bloggers from India and abroad have entered the competition.
Travel writers, photographers and bloggers who already have their own travel blogs are eligible to enter the competition.
The profiles of participating bloggers are available on the Kerala Blog Express website for voting by the general public.
The online vote process will be completed Jan 15, and the bloggers with the highest votes will earn seats on the Kerala Blog Express, following a final review by a judging panel of the tourism department.
"This is a first-of-its-kind initiative in the country to attract the travel blogger community for a first-hand experience of our land, its geography and culture," said Kerala Tourism Minister A.P. Anilkumar.
Entries were received from as many as 80 countries, including the United States, the United Kingdom, Poland, Spain, Germany, Canada and Indonesia.
Some of the world's best-known travel bloggers like Venezuela-born Marcello Arrambide whose Wandering Trader is one of the most popular travels blogs on the internet, and Romanian Cezar Dumitru whose extensive travel experiences have been recorded on his Imperator Travel website, are taking part.
Several of the writers participating in the race for the 25 seats on the Kerala Blog Express have featured in the National Geographic, Conde Nast Traveller and Lonely Planet.
"These bloggers have millions of followers around the world, for whom their word is final, as far as global travel is concerned," said Kerala Tourism Director S. Harikishore.
"Kerala Blog Express would be a stepping stone to experience Kerala along with other travel bloggers," said US-based bloggers Veronica and David James in their new post after entering the contest. - IANS