Activists welcome court ban on idol immersion in rivers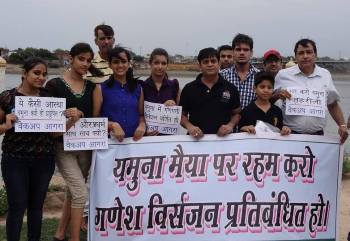 The Allahabad High Court order asking the Uttar Pradesh government to ban immersion of idols in the Yamuna and Ganges rivers has been widely welcomed by eco-activists in Agra.
The activists have been demonstrating and presenting memorandums to the district authorities and the UP State Pollution Control Board to restrict immersion of Ganesh and Durga idols in the Yamuna, but for want of clear directives from the government, and afraid of inviting religious backlash, the agencies chose to look the other way.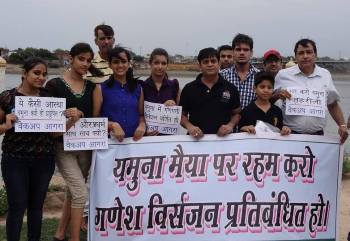 Activists welcome the ban of idol immersion in Ganga, Yamuna rivers (Photo: IANS)
The court order Monday instructed the state government to issue an official notification and make alternative arrangements within a year.
A bench comprising Justice Arun Tandon and Justice Ashok Bhushan denied permission to the Allahabad administration to allow immersion of idols in the rivers.
The officials had pleaded for a year's time but it was declined by the court. The bench stated categorically that steps were needed to stop pollution of water bodies and rivers.
Shishir Bhagat, president of Wake Up Agra said: "The court has come to our rescue. Better late than never. The idols of gods and goddesses these days are made of toxic and polluting materials using plastic colours that do not easily dissolve. Yamuna, which is already highly polluted, should not be allowed to be subjected to further assaults."
Heritage Society's Shravan Kumar Singh said: "Our facebook campaign has finally yielded results. It is a much welcomed step and has the support of all nature-friendly people in the city."
Ashok Jain C.A., president Agra Vikas Manch, said his organisation would provide two big trenches at the Yamuna ghat where the idols could be immersed.
"The puja samigri which is bio-degradable would be collected in another pit and used as manure in course of time," he said.
Religious leaders have also come out in support of the ban.
"The right thing would be to use a bucket of water at home to immerse the idol and then use the water in the garden," Pandit Mahesh Chandra Sharma said.
The recent trend of installing idols by individual families, instead of collective worship, has compounded the problem.
"Earlier, these festivals were collectively celebrated by the whole community, but now every family has its own Ganesha or Durga idol which have to be immersed in a water body," said home-maker Padmini.
Despite a total ban on use of loud speakers by the Agra administration, every mohalla and lane in Agra is openly flouting the orders.
"The noise level has hurt the patients in the hospitals and nursing homes. On Monday, there were numerous complaints filed, but the cops do not have the guts to take action," said a fuming relative of a patient admitted in the ICU of the SN Medical College, Agra. - IANS