IIT Madras Has to Respect Fundamental Rights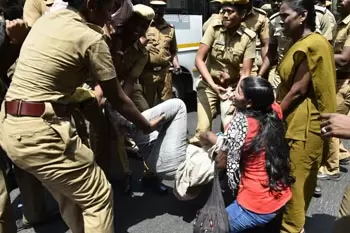 The ban on the Ambedkar Periyar Study Circle, a student group of IIT Madras, is an attack on freedom of speech and expression guaranteed under Article 19 of the Constitution. Freedom of speech and expression includes right to acquire and disseminate information. Right to disseminate include right to communicate through any media, print, electronic or visual audio.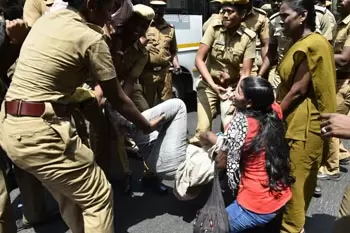 Police in Chennai evicting a DYFI member protesting against the ban on Ambedkar Periyar Study Circle (Photo: IANS)
The fundamental right can be limited only by reasonable restrictions under a law made for the purposes mentioned in Article 19 (2) of the Constitution. The burden is on the authority to justify restrictions. No restriction can be placed on the right to freedom of speech and expression on grounds other than those specified in Article 19 (2) according to the Supreme Court ruling in Secretary, Ministry of Information and Broadcasting v Cricket Association of Bengal (AIR 1995 SC 1236).

The Ambedkar Periyar Study Circle was established as an independent student body of IIT, Madras, on 14 April 2014, to promote the thoughts of Ambedkar and Periyar and to initiate debates on socio-economic, political and cultural issues which affect the common man within the academic fraternity.

IIT Madras has a long history of being an exclusive platform for right wing groups. In its short span of existence of just one year, the Ambedkar Periyar Study Circle has organised hall meetings, screening of movies and distribution of pamphlets and created among the student community awareness of threat to agriculture, GM crops and their impact on agriculture, the divisive attempt of the HRD ministry to have separate dining halls in IIT-M and IIT-Mumbai for vegetarians and non-vegetarians and the like.

De-recognition of the APSC, albeit temporarily as claimed by the Dean of the IIT, has been condemned by every political party barring the BJP and it conveys its own message to the people at large.

What triggered the present controversy was a speech by R Vivekananda Gopal, a leading social scientist who is on the faculty of Dravidian University, on "Contemporary Relevance of Ambedkar" on 18 May in which he criticised Prime Minister Narendra Modi for programmes like ghar waapsi, ban on cow slaughter and the move to acquire agricultural land compulsorily.

The IIT authorities have been uncomfortable with the activities of the APSC even before Gopal's speech. It caused an anonymous letter to be sent to the Union HRD Ministry. Prisca Mathew, an under-secretary in the ministry, sought the IIT's response.

No one has taken HRD Minister Smriti Irani's claim that IITs are autonomous institutions which take their own decisions, especially in the light of the recent resignation of Anil Kakodkar, chairman of IIT Bombay's board of governors. Authorities of IIT Madras may not agree with the views of APSC or academician Gopal but they have a duty to uphold freedom of speech within its portals.