Save lives first, Bullet trains can wait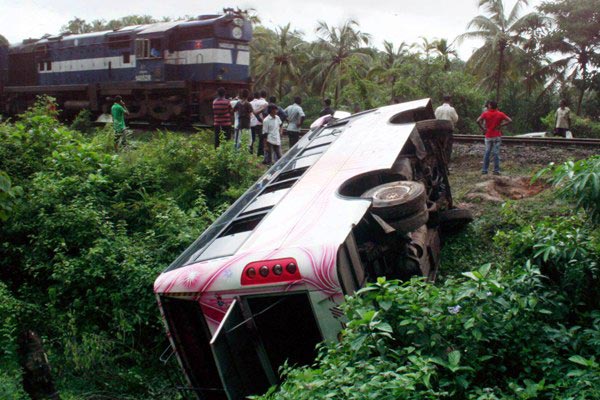 The death of 18 children and injuries to 15, aged between six and 12, in a bus-train collision at an unmanned level crossing in Medak district, Telangana, last week, could have been averted had the Indian Railways lived up to its promises.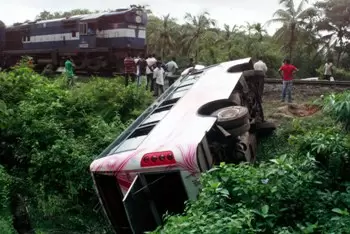 File photo of bus-van collision at a crossing in Karnataka in 2013 (Photo: Indian Photo Agency)
In the last five years, 723 people have lost their lives in accidents involving unmanned level crossings. Instead of finding ways and means of eliminating level crossing accidents, Union railway minister Sadananda Gowda blamed the Medak mishap on the failure of the school bus driver to stop the vehicle at the stop sign of the level crossing to look for approaching train as prescribed in Section 131 of the Motor Vehicle Act, 1988.

The Telangana government, on the other hand, squarely blamed the railway authorities and called for stern action against the South Central Railways general manager for not acting upon several memorandums submitted by the people of Masaipet where the accident took place.

Unveiling the Indian Railways Vision 2020 Document in Parliament on 2009, then railway minister Mamata Banerjee promised that not a single level crossing in the country would remain unmanned or unprotected in the next five years.

She and her party men had been in charge of the Railways for much of the last five years and there are still 14,853 unmanned level crossings in the country. Thirty-eight per cent of train accidents and 56 per cent of deaths are attributed to unmanned level crossing.

Gowda has provided just Rs. 1,785 crore for construction of road over-bridges and under-bridges in the Railway budget for 2014-15 while promising to examine all unmanned crossings and chart suitable modalities for their elimination. The budget allocation is hardly adequate for this Herculean task.

MG Gireeshan, a Chennai-based electronics engineer who has about 150 inventions to his credit, had developed in 2010 an integrated circuit based system to eliminate accidents at unmanned level crossings, costing about Rs. 7,000. When a train leaves a station, the station master activates the system which will close automatically all the gates of unmanned crossings in the stretch up to the next station.

If a vehicle is caught between the gates, the gate could be opened for two minutes by a manual switch, just enough time for the vehicle to get out. If the driver could not get the gate opened, the engine of the train would come to a halt 300 meters from the level crossing.

P Shankar, a former senior scientist at the Department of Atomic Energy, found the system workable and said the Railways could try it out with slight modifications. As the committee on railway safety headed by Anil Kakodkar pointed, safety should receive top most priority. Introduction of bullet trains can wait.