New age politics has players coming from far and away to change it all
24-February-2012
Vol 3&nbsp|&nbspIssue 8
Conventional wisdom would indicate that this is not the best of times to be a politician, what with the neta becoming India's most loathed and lampooned class. But then conventional wisdom seldom drives politics.

While Chhavi Rajawat, the country's youngest sarpanch (of Soda, Rajasthan) at 32, might have been thus far India's prettiest poster girl of new age politics, across the country a rash of unlikely politicians are emerging on the electoral landscape in the ongoing Assembly polls.

From an entrepreneur looking to create public spaces for the old to a former student leader hoping to mend the crisis of faith in Indian politics and from an IIM professor pushing for resource optimisation to a lawyer who gave up his foreign practice, the Indian politician is morphing into a pleasantly unrecognisable being.
Juhie Singh (46), the Samajwadi Party candidate from Lucknow (East), was a pioneering entrepreneur in the floriculture business in the state till she decided to expand her knack for connecting with people outside the immediate circle of her employees.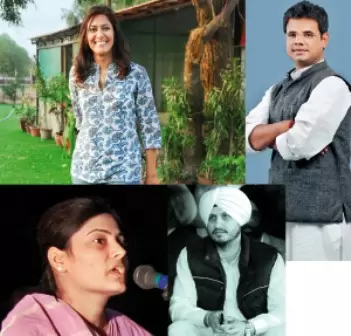 Clockwise from left: Chaavi Rajawat, Harshvardhan Sham, Amanpreet Singh Chhina, Anupriya Patel (Photos: The Sunday Indian)
She makes for an unlikely politician as she speaks on the need to have user-friendly parks for the elderly, to develop sports facilities to inculcate nationalism in the young, generate funds for slums and the importance of creating synergies between education and employment opportunities – concerns one will not find highlighted in her party's agenda.
But as this head of ASSOCHAM's national committee on floriculture, who holds a masters degree in Public Policy and Management from the University of London says, "Politics is about finding a voice to speak. I have chosen to speak for women, the young and the elderly."
In Colonelganj (Gonda), a 44-year-old professor of commerce from Lucknow University, Virendra Kumar Goswami, is trying to speak for democracy by breaking the stranglehold of dynastic politics on a ticket from the BJP. "Dynasties have no place in democracies," says this D.Litt from Lucknow University who has connected with people over common concerns.
Similarly, Nadeem Javed, the 34-year-old Congress candidate from Jaunpur, is trying to mend what he labels "a crisis of faith in Indian politics." Part of Rahul Gandhi's core team that has been restructuring the party to include more young faces, Javed, a former president of the National Students Union of India, is running a campaign high on emotion as he swears in public meetings, in the name of Allah, that, if elected, he will not touch a paisa of the vidhayak nidhi meant for development of the constituency.

"It is unbelievable that such poverty should exist and that people must endure it," says the man who grew up in a village where human life was so expendable that even the railway tracks had been left without safety barriers.
In Mohanlalganj (Lucknow), another young man, Harshvardhan Sham (32), is running a practical test on his ongoing PhD thesis (from Delhi's Jawaharlal Nehru University) on "The changing dynamics of UP politics post 1989".

Sham, who is fighting on a Congress ticket, is banking on his friends from school to help him establish a bond with the young voters of his area. He dismisses speculation on the longevity of his political career with, "I am here for the long haul. I am secular, committed and an idealist. Why will I not succeed?"

Sham also exemplifies a recurrent trend in newbies like him – they all profess a strong connect with the leader, not necessarily the party. Thus Amanpreet Singh Chhina, 34, was happy practising law in UK after a graduate degree from Oxford University till he fell to the lure of Manpreet Singh Badal's slogan for change.

"This is not about families or factions, this is a fight for change," says Chhina who contested the state assembly elections from Rajasansi in Amritsar on a ticket from Punjab People's Party.
In the same state, Ravinder Dhaliwal, 41, quit his high-paying corporate job after a chance meeting with Badal. "I liked the fact that he spoke about going back to the legacy of martyrs like Bhagat Singh," says Dhaliwal, who contested from Moga, where he had spent a part of his corporate career interacting with farmers.
Similarly, Abhishek Mishra, a 34-year-old who gave up his job as professor of strategy and innovation at IIM Ahmedabad to contest on a SP ticket from Lucknow (North), did so at the insistence of the party's state chief Akhilesh Singh Yadav, a close friend of his.

"I see the gleam in his eye, that determination for change. I have joined this party for him under the guidance of Netaji (Mulayam Singh Yadav)," says Mishra, who holds a Masters from Strathclyde Business School Glasgow and an MPhil and a PhD from Cambridge.

As part of Yadav's core team, Mishra has been pushing for professional expertise and excellence, even though as he says, " it meant annoying a few people."

Anupriya Patel's agenda is a little different as she looks to revive Apna Dal, a party founded by her father Dr Sone Lal Patel in 1995 to reap the Kurmi vote. After Patel senior's death in a road accident in 2009, the daughter was coaxed by party members to resurrect the party which had been abandoned by all senior leaders.
While this 32-year-old, a graduate from Delhi's famed LSR College, might have adopted questionable means to effect this revival (the party has dispensed tickets to known criminals like Atiq Ahmed), she is keen to give the party a fighting chance.
At Rohaniya in Varanasi, where Patel is a candidate, she offers a poetic interpretation on her journey: "Don't ask me where my destination is, I have just learnt to walk".
This welcome trend is not limited to states which have been poll bound this season. Elsewhere too the politician is mutating. Take Junaid Azim Mattu (26) for instance. He chose to give up his job as a financial analyst in the US to experience first-hand the politics of Jammu and Kashmir and joined Sajjad Gani Lone's People's Conference in 2010.

To him politics is a means of "bringing about effective and structural changes in a system that is based on non-performance, corruption and nepotism."

And that change he believes must start with his generation. "Our generation needs to make conscious, active efforts to bring about a change in the way our state functions; in the way our system of administration is designed to economically and politically persecute the common people. Passive commentary won't help anymore."
The valley also called out to Raja Parvez Ali Mir, a 27-year-old software engineer who successfully contested the panchayat elections from his village Lachipora and became sarpanch. His next mission is the 2014 Assembly elections. "People know me as someone who delivers," he says.
Likewise Shafiq Mir, 39, chose to give up his full time career as a journalist to forge a new one in politics. Today as he goes about trying to transform his village Pooshana in Poonch into a model of development, he says he is "committed to creating a sense of belonging" in his people.
As voices like these get stronger, Indian politics seems poised for a dramatic overhaul. As the trickle gets steadier, a storm might just be in the making.

By arrangement with The Sunday Indian

Wish to share your story?
Trending Now: