A scientist talks about rural development, youth empowerment and changing people
Quaid Najmi
&nbsp | &nbsp Buldhana (Maharashtra)
06-February-2012
Vol 3&nbsp|&nbspIssue 5
He lived in the US for over a decade. But the nanotechnology scientist left his cutting edge work when conscience beckoned him to help change and improve things in his deprived Parda village in the Vidarbha region.
Treading the heat and grime of grassroots politics is 28-year-old Balasaheb S. Darade, who is contesting as an independent candidate from the Pangradole constituency in the Buldhana district council polls scheduled for Feb 7.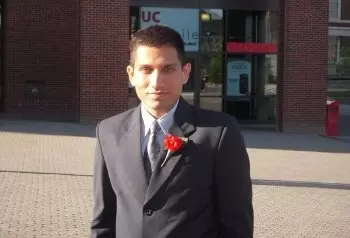 Balasaheb S. Darade chucked a career in the US and returned to India to work in the villages (Photo: IANS)
"I am focusing on three key aspects - rural development, youth empowerment and changing the attitude of people - if they want to see change, they must change themselves," Darade, who came back to India last year, told in an interview.
Born in Parda village, 450 km southeast of Mumbai, which has now grown into a small town with around 25,000 people, Darade was educated here and in other parts of the state before joining the University of Cincinnati, US, from where he completed his masters in nanotechnology.
"I had always been keen on research, especially nano in solar cells. My work got me a consultancy assignment with US space agency NASA and I worked on the Mars Rover Project on nano solar cells," he said.
Darade always longed to return to his town and do something for people's upliftment - almost like Shah Rukh Khan in the movie "Swades".
During his stay in the US till August 2011, Darade keenly watched and drummed up support for social activist Anna Hazare's anti-corruption crusade. He also came in contact with spiritual guru Sri Sri Ravi Shankar in the US and met former president A.P.J. Abdul Kalam on several occasions.
"These personalities appreciated my efforts, inspired and encouraged me to enter politics which is abhorred and shunned by the educated class in India," said Darade while on the campaign trail.
He has formulated plans for a revamp of villages partly by incorporating Hazare's Ralegan-Siddhi model village principles.
"I launched the Shankar Rural Transformation Project (SRTP) in 20 villages in the Vidarbha region, which is plagued by farmland suicides, huge unemployment and consequent problems," he said.
The SRTP project - dedicated to the memory of his late parents Shankar and Ratnamala, who perished in a fire accident three years ago and his mentor, Sri Sri Ravi Shankar - has taken off with volunteers in each of the target villages.
Darade has taken up SRTP in three parts - sustainable village development projects for solving a village's need-based problems, individual empowerment, and finally collaboration with government and other agencies.
Initially hoping to contest the state legislature elections in 2014, it was barely two weeks ago that Darade decided to take the plunge into the local body polls - which he said would enable him to study and understand deeply the problems afflicting the rural, agro-based state economy and people's plight.
Darade has been allotted a 'cup and saucer' election symbol, but says he is not bothered about 'token symbolism'. Instead, he wants to involve the masses in a big way and put them on the path to progress and prosperity.
His public meetings, with audiences ranging from groups of 20 to 8,000 (the biggest till date attended by curious farmers who decided to hear yet another speaker), have short issue-based speeches and are spiced with meditation and chanting of popular folk songs.
"I prefer quality in my meetings. Quantity or big crowds do not really get the message across," he explained.
Depending solely on public donations, volunteers' contributions, including sympathizers from India Against Corruption (IAC), and his own meagre resources, Darade moves around in a hired vehicle, armed with his cap that says "Now Change is Certain", which he distributes to people he meets daily.
He claims that though written off initially, he has now been flooded with messages, letters and e-mails of support. The village youth participation in his campaign has grown manifold.
"I have realised that elections, however small, are a tough job. But in a democracy, elections are a must and it is imperative to elect good representatives at all levels - I have taken the first step towards this change."
After this experience, Darade hopes to contest the Maharashtra assembly elections due 2014. - IANS
Wish to share your story?
Trending Now: