A Dubai-born Kashmiri woman's empathy has brought a change in Breswana
Binoo Joshi
&nbsp | &nbsp Jammu
12-January-2012
Vol 3&nbsp|&nbspIssue 2
Moved by the plight of her remote village in Jammu and Kashmir state, a Kashmiri woman born and brought up in Dubai relinquished what could have been a lucrative career and opened a school there to usher in "change".
Sabbah Haji was born in Dubai in 1982 where her father was a manager in a shipping company. In 1997, her family shifted to Bangalore, from where Haji did her B.Com and nursed dreams of becoming a chartered accountant.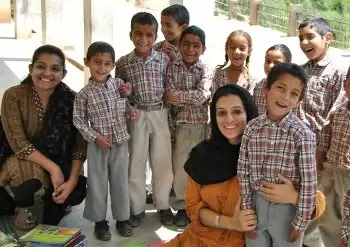 Sabbah Haji with children at her school (Photos: IANS)
She started writing and editing for online journals, and prepared for her professional exams alongside. But the death of her grandfather in January 2009 changed her life in more ways than one.
She went to her native village Breswana in Doda district of Jammu and Kashmir, and was immediately struck by what she saw.
"When I came here in 2009, what I saw was that nearly two generations of villagers had no education, due to the apathetic attitude of successive governments and militancy," says Haji.
Breswana is located some 7,100 feet above sea level. The village is about a one-and-a-half-hour trek from the last motorable point about 43 km from Doda, which is 160 km northeast of Jammu.
Government schools remained shut during the peak of militancy. But she said even after normalcy returned, the situation did not improve.
"The teachers too would also attend the schools. The corruption is unparalleled and there is no accountability, especially in remote areas," she added.
"The improved situation now has not made a visible difference as teachers are abstaining like before from government schools. I hope the panchayat elected recently can bring in some checks and balances on corruption at local level.
"I was deeply moved by the condition of people of my village, which was engulfed by so many inadequacies," Haji said.
Not content with just sympathising, she decided to do something.
"And I thought of opening a school to give education to children here as I feel that education is the base for progress and development," she said.
Haji Public School was opened in May 2009. Her mother Tasneem Haji joined her as the school's co-director.
"It was only two rooms to begin with and now we have six rooms, up to the fourth grade," Sabbah says proudly.
The school is built on her own ancestral land. She plans to procure some more land as her "dream is to first take the school up to Class 10 and then finally to start a college by 2018-19."
Haji Public School in Breswana village
Haji Public School now boasts of 150 students and 15 teachers. "Getting staff in this area is a problem but I am managing it as young people are coming forward. We are providing boarding and stipend to them," Haji said.
Zubair Ahmad Batt, 30, is one of the teachers at the school.
"It is a blessing to have such a school in our village where our children can have good education, while it provides employment to youth here. The fee is also affordable," says Batt.
Batt's four-year-old daughter Nigat Gul Batt too is studying in the upper kindergarten in the school.
Mohammad Farooq Lohar, whose three children are studying in this school, said: "Our area was bereft of education as only a handful could manage to send their children to Doda town for studies."
Haji, meanwhile, says she has no regrets of coming back as it was her dream to bring the "best education to Breswana".
But she feels that "tackling the corrupt system and unbelievable red tape" would be a tall task.
"I strictly follow rules and regulations," she added. - IANS
Wish to share your story?
Trending Now: