Make your New Year resolutions count this time

30-December-2011
Vol 2&nbsp|&nbspIssue 52
"Year's end is neither an end nor a beginning
but a going on, with all the wisdom
that experience can instill in us."
-Hal Borland
Thomas Mann, the famous German novelist and Nobel Prize laureate said, "Time has no divisions to mark its passage; there is never a thunder-storm or blare of trumpets to announce the beginning of a new month or year. Even when a new century begins it is only we mortals who ring bells and fire off pistols." Yet, the New Year's time is special for most of us.

It's a time to reflect and renew, a time to look back at what you did in the past year and look forward to what you can do in the coming year. Yes, it's that time of the year again.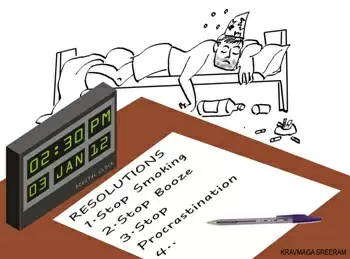 Illustratration by KravMaga Sreeram
New Year's Day is a great opportunity to reinvent yourself, unfold new horizons, gear up for new challenges and realize new dreams.
As Oprah Winfrey rightly said, "Cheers to a new year; it's another chance for us to get it right." That is why so many people make New Year's Resolutions.

A New Year's Resolution is a commitment that you make of improving yourself or a personal goal that you set out to accomplish in the coming year. It is easy to make a New Year's Resolution.

Everyone can do that. At the start of a new year, most people are motivated to make resolutions to do all sorts of things. But by January end, the initial spark of enthusiasm goes out and the motivation to keep the New Year's Resolution starts to dwindle.

Anyone who has ever broken a New Year's Resolution will tell that keeping resolutions and sustaining the momentum can indeed be tricky. It takes steely nerves to live by what you resolve.

We all have made New Year Resolutions, struggled to keep up with them, abandoned our resolve, and remade those resolutions year after year. But this year, it doesn't have to be that way. Whatever your Resolutions for the New Year are, here are a few steps that will help you be successful in making and keeping them.

The key to making New Year's Resolutions stick is choosing the right resolution in the first place. Don't let the New Year resolutions be a 'to-do list' for the first week of January. Set realistic goals for yourself and take them seriously.

How to set realistic New Year Resolutions-
Reality-check your goals. Make only those Resolutions that you are deeply passionate about
Aim for the things that are truly important to you and will make a positive difference in your life
Make sure your goals are achievable. Be wary of making extreme resolutions
Visualize yourself achieving the goal and how it would change your life. Imagine how your achievement feels like. If you can't wait to get started, it's time to go after them NOW

Once you have given yourself realistic New Year's Resolutions, the next step is to make efforts to live up to them. Most resolutions fail because people stop once they have made the Resolution.

Here are 7 ways to keep your New Year Resolutions:

1. Begin with a positive mindset - Believe that you can achieve your goals

2. Define your goals - Many people make the mistake of setting general goals and never end up keeping them. Make your goals clear, precise and unambiguous. Write them down. This makes your goals a formal commitment

3. Don't make too many goals - While you may have a long list of New Year's Resolutions, you should pick only a few worthwhile goals and focus your energies on it rather than trying to change or attain too many things at the same time

4. Break it down - Break your resolution into a few smaller, more tangible goals. Spread them out throughout the year.

5. Set intermediate milestones - For each goal that is big enough, set some intermediate milestones to track your progress.

6. Periodically re-evaluate your goals - Over a period of time, your priorities might change or unexpected problems might crop in. So be flexible and let your goals evolve. Go through your plan; look for strategies that are not working. Adjust your plan, modify your approach and continue onwards.

7. Reward yourself: Along the way, when you reach your milestones, celebrate your small successes. It's a great way to build up your confidence and keep the enthusiasm alive. Acknowledging your efforts not only keeps you motivated but also serves as glue that makes those New Year's Resolutions stick.

Experiencing a setback is one of the most common reasons why people give up on their New Year's Resolutions. Remember, changing yourself or achieving something takes time and patience. There will be ups and downs; you will encounter hurdles along the way.

When you face such moments, remind yourself of exactly why you are pursuing these goals. Remain focused, keep yourself motivated and keep taking small steps forward. You will surely reach your goal.

New Year is the perfect time to turn over a new leaf and kick start a new phase in your life.

"The object of a New Year is not that we should have a new year. It is that we should have a new soul," as G. K. Chesterton put it. My new year's resolution is to lead a more meaningful life. What's yours?
"We spend January 1 walking through our lives, room by room,
drawing up a list of work to be done, cracks to be patched.
Maybe this year, to balance the list, we ought to walk through
the rooms of our lives, not looking for flaws, but for potential." - Ellen Goodman

The Author is a Motivational counselor, Speaker, Ophthalmologist, and Author of 'Principles of Success made easy-14 easy steps to climb the ladder of success.'

Trending Now: