Kalam proposes fresh formula for vibrant India in new book
Madhushree Chatterjee
&nbsp | &nbsp New Delhi
24-December-2011
Vol 2&nbsp|&nbspIssue 51
Even as the ongoing debate about the Lokpal Bill reaches a crescendo, one man believes he has the answer to the malady of corruption that India suffers from.

A three-point movement stressing on education, values and the parent-child equation should provide the magic formula, believes former president A.P.J. Abdul Kalam.
"The Lokpal Bill is definitely going to shape a new law to punish or take action against people who indulge in corruption. But the issue is how fast can you take action?" asked India's "missile man".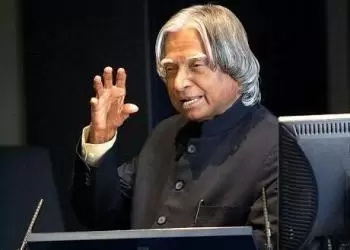 Kalam feels India must create her own development model (Photo courtesy: abdulkalam.com)
"How accurately can the law fix the crime? There has to be a mechanism for very fast action. The law is like this: catch them and punish them. Ideally, we need good citizens. My mission is: How to 'overcome the greed and corruption.' I visualise the nation as corruption-free, prosperous and peaceful with three simultaneous movements," said Kalam in an interview.
"The three movements are 'education with value system', 'youth persuading their parents to let go of corruption,' and 'What can I give, to replace the greed of, what I can take'.
"So a+b+c (the three arms of the movement) along with the strong Lokpal laws with action orientation will evolve a great nation," Kalam said.
The belief towards an ideal nation also finds reflection in Kalam's new book, "Target 3 Billion: Innovative Solutions towards Sustainable Development", which he has co-authored with his young co-researcher Srijan Pal Singh.
It explores the possibilities of empowering India's 600,000 villages with a sustainable development model by providing urban amenities in rural areas.
The model - PURA or Provision of Urban Amenities in Rural Areas - is a combination of technology, people, traditions, skills and entrepreneurial spirit. The book illustrates the viability of the model with examples of successful development enterprise from the villages.
An estimate by Kalam and co-writer Singh says "the country will need 7,000 PURA clusters to address the development needs of at least 750 million people living in the villages".
One of the ground-breaking theories of Kalam's grassroots development is "eco-preneurialship - generating sustainable and inclusive livelihoods from environment".
"This is a new idea for sustainable development profile of the 21st century world which faces tremendous ecological stress. Innovation needs to find a three-way support of investment, knowledge power and market linkages to create a PURA Corporation which brings forth a unique idea of 'Social Stock'. It can be used as a tool to support eco-preneurs and innovators," he said.
The former president said he had discussed some waste-to-wealth examples in the book like fly ash for building material and jatropha and algae for fuel generation as successful green enterprises.
"During my visit to the Andaman and Nicobar Islands, I realised that the whole archipelago is powered by diesel-fuelled generators. An eco-preneur can use solar power for daytime and jatropha oil for generation of power at night," Kalam said, suggesting a model.
Kalam said the success of his "model of sustainable development depends on mobilising the youth of the country to become a part of the PURA mission".
"The youth need to be enabled to become job generators from job seekers. Students can be a part of the mission through research and awareness. For this, we need to create enterprise environment for promoting vertical linkages," he said.
"I have suggested that students of Class 8, Class 10 and Class 12 be given skill importance (skill-based) training. And they will be awarded another certificate with their CBSE certificate that will validate their employable status. I have been pushing the idea to the government for the last few years," he said.
"India should walk on her own shadow - we must have our own development model," he said.
Kalam, who has been honoured with the Padma Bhushan, Padma Vibhushan and Bharat Ratna, has authored 15 books on a variety of topics, including "Igniting Minds", "Wings of Fire" and "India 2020: A Vision for the New Millennium".
The 80-year-old former president lectures on social development, works on social projects and guides research fellows. - IANS


Trending Now: