VIT demonstrates social responsibility through ambitious education scheme

22-November-2011
Vol 2&nbsp|&nbspIssue 46
In an ambitious initiative to encourage more people to pursue higher education, one of India's leading educational institutions, Vellore Institute of Technology (VIT), has launched the Higher Education for All (HEFA) programme.

The scheme is meant to ensure that all those who pass higher secondary school attend college and get a degree.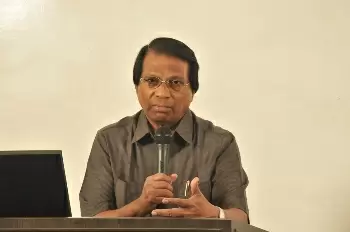 VIT Chancellor G Viswanathan says HEFA is his dream project and he wants to make it a success at all cost
VIT Chancellor Dr. G Viswanathan, a politician turned educationist, said HEFA was one of his dream projects.

Explaining the purpose of the project, he said that only a small percentage of students opt for higher education in India and this situation was not good for the country.

"In Tamil Nadu, just 16 percent go to college after school. Many are unable to study further due to economic reasons. Through HEFA we want to ensure that every student who wants to go for higher education gets an opportunity," the former MP, who won on a DMK ticket in 1967, said.

HEFA will sponsor the educational expenses for all deserving students. The scheme will be implemented in two assembly constituencies – Gudiyattam and K V Kuppam – in Vellore district from next academic year. An estimated 4700 students will be covered under the programme in the first year.

Viswanathan said the scheme will be extended to all 13 constituencies in the district in the next few years.

"Massive effort is required to make it a success. We would require the support of schools, colleges, Corporates, and government authorities," the one-time minister in Jayalalithaa's cabinet during her first term in office said.

Hailing from a village in Vellore district, as a child he had cycled and walked long distances to attend school. This experience, he says, had instilled in him a desire to contribute to development of education in the country.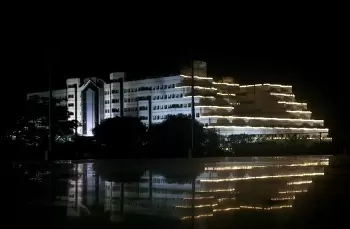 A view of VIT at night
Since he lost an election in 1996, which he contested as an independent from Gudiyattam, he has kept away from politics and focused on developing the college he founded in 1984.

VIT, located in Vellore, about 140 km from Chennai, has been carrying out its social responsibilities through a programme it launched in 2008 called STARS (Support the Advancement of Rural Students).

The scheme - initially introduced in 7 districts - identifies two toppers (one boy and one girl) from rural government higher secondary schools in each district and offers them free education in VIT. The students are given free boarding and lodging in the college hostel.

"We build up their self-confidence levels, and train them in spoken English, and computer skills. We have admitted 190 students under this scheme so far. The first batch of students, now in their final year, have all got placements in good companies," says Viswanathan.

According to an estimate, VIT has incurred an expenditure of about Rs.1.6 crore under this project.


Trending Now: