Experiments in radical generosity aim at finding if we could sustain each other

Azera Parveen Rahman
&nbsp | &nbsp Ahmedabad/Pune
19-April-2013
Vol 4&nbsp|&nbspIssue 16
Your bill reads zero in a restaurant in Ahmedabad and you are told the person who had come before you has paid for your meal.

You get into an auto in the same city and the driver tells you that you can pay whatever you want at the end of the journey. You shop in Pune and at the billing counter the salesperson tells you that you can pay what you deem is the price of the product.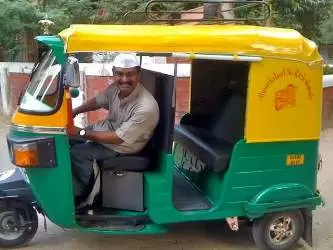 If you travel in Uday Bhai's auto, you could pay whatever you feel like paying for the ride
Unbelievable? Here's introducing the concept of the gift economy. In a world where money is the primary means of transaction, a group of people in India are trying to instil and encourage peer-to-peer generosity by rubbing off price tags from products and services - and leaving it for consumers to decide their worth.
"The laws of economics are valid as long as there is scarcity of resources and man is consumption-oriented. But what if we flip it?

"What if we say that we will work with what we have and move from scarcity to abundance; from transaction to trust; from consumption to contribution; and from isolation to community? These various experiments are a shift along these lines," says Siddharth Sthalekar, a volunteer at Ahmedabad-based voluntary organisation Moved By Love, whose sub-title is Experiments in Radical Generosity.
These "radical acts" began with a single experiment, called the Seva Cafe, seven years ago in Ahmedabad. A group of enthusiastic volunteers, with the help of ServiceSpace, a completely volunteer-run organisation in the US which was already doing such experiments with great success, decided to open a restaurant that had a no-price menu, and where you don't pay for your own meal.
"At Seva Cafe, at the end of your meal, you get a note saying that the food was a gift from someone who had come before you, and if you wish you can continue the cycle by paying whatever you wished for the next guest. More often than not, people are moved by the experience and continue the cycle," said Sthalekar in an interview.
"Although there are three employees who work as anchors, the cafe is run chiefly by volunteers who cook, serve, and clean afterwards," he added.
Much against the popular doubt of sustainability, the cafe was a success. And encouraged by its impact, Moved By Love, a loosely held-together group, came together over a year back to further spread the magic of Seva in other cities, and do more such experiments.
Started first in Ahmedabad and then spreading to Pune, in the Wisdom Crafts store, it's all about value-based products. Meaning, you decide the worth of an item and pay accordingly. Having said that, the contributors are paid the cost price.
"At Wisdom Crafts, people contribute their work for sale. For instance, an artist will offer his poster; you can decide the price," Sthalekar said.

The products are mostly message oriented - like key chains with peace written on them, or a deck of cards with messages of good Samaritan acts behind. There are handicrafts, books, CDs, frames, et al at the store.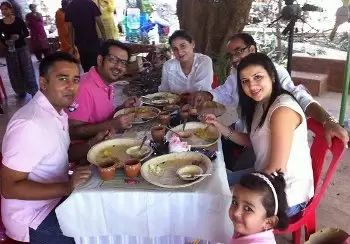 Relishing the experience at Seva Cafe
Uday Bhai's Love-all-serve-all autorickshaw is yet another project encouraging generosity. This Ahmedabad based simple man has been earning his living since 2010 by ferrying passengers, six days a week, from whom he does not demand any fare - you pay what you want!
The pay-it-forward model, just like Seva Cafe, leaves every passenger he ferries spellbound, and some deeply moved. Each day he writes about his unique experiences with different people.

One such instance was that of a man who said that he would pay Rs.10 for his journey, but after hearing Uday Bhai's story he decided to pay Rs.13 - the actual fare for the distance.
Another time, a lady was so moved by his act of generosity that she insisted on paying for his family's groceries as she bought her own.
His auto, whose interiors have inspirational quotes inscribed, transforms his passengers, Uday Bhai insists.
"Uday Bhai tells us that at the end of the month he makes the same amount as any other autorickshaw driver. But with all those unique experiences and synergy, he is definitely richer," Sthalekar said.
"We don't do fund raisers, or have NGO and government support. The idea is that in a community generosity can help us sustain each other," he added. - IANS
Wish to share your story?
Trending Now: