Baby delivered at 12.12.12 hours on 12-12-12
14-December-2012
Vol 3&nbsp|&nbspIssue 50
The special date 12-12-12 Wednesday proved lucky for a 27-year-old Mumbai woman who delivered a healthy child at 12.12.12 hours, an official here said.
"When the newly-delivered baby cried for the first time, the time was exactly 12.12.12 hours even as a dozen medical students furiously clicked away on their mobilephone cameras. Coincidentally, somebody pointed out that the delivery took place in the hospital's ward No.12," Niranjan Chavan, a doctor at the Sion Hospital, said.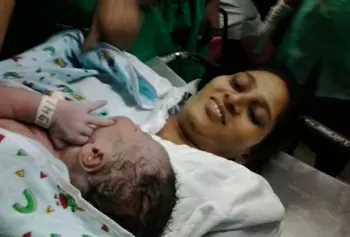 Mamta Sahani with her new-born baby in a Mumbai hospital on Wednesday (Photo: IANS)
The woman, identified as Mamta Sahani, had earlier suffered two short-lived births in the past couple of years, jolting her dreams of motherhood, said Chavan, head of the unit at the Lokmanya Tilak Municipal General Hospital at Sion, who performed the Caesarean operation upon her.
"Tears streamed down the patient's eyes as she saw her baby and she could barely express herself," Chavan said, adding that both the mother and child were doing well.
Her husband Ajendra Sahani, working in a pathology lab, was overwhelmed and profusely thanked the medicos at the Bombay Municipal Corporation's hospital at Sion in central Mumbai.
Around two years ago, Mamta's first baby was delivered premature at seven months and died after 45 days. Last year, her second child died 48 hours after it was born, shattering her dreams of ever achieving motherhood, he said.
This was not the only delivery on the special date at the hospital. As many as 29 deliveries took place, of which nine were Caesarean, said head of the gynaecology department, Y.S. Nandanwar.
Among the Caesarean section deliveries, two were elective, meaning that the patients specifically requested for it to mark the special date in the calendar. - IANS
Wish to share your story?
Trending Now: