Little known Meerut girl eyes gold in London

Santosh Rao
&nbsp | &nbsp New Delhi
11-July-2012
Vol 3&nbsp|&nbspIssue 27
Little known Garima Chaudhary from Meerut, the sole judoka representing India at the London Olympics, feels winning a gold medal is not a far-fetched dream for her.
The 22-year-old qualified for the Olympics in the 63 kg weight category, based on the latest rankings released by International Judo Federation (IJF) May 6.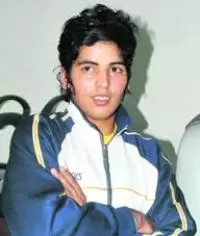 Garima Chaudhary is ready for the Olympics (Photo: IANS)
Garima, who is ranked 88th in the world, secured the continental quota spot along with Turkmenistan's 63rd ranked Gulnar Hayytbaeva.
Garima qualified for the London Games after consistent performances at the international level, beginning with the Paris World championships last year, followed by an impressive showing in the World Cup in Warsaw and the Asian championship in Tashkent this year.
"It is a dream come true for me but it doesn't stop here. Now my aim is to return home with an Olympic medal.
"The 24 judokas competing in my weight are more or less of the same calibre. In recent months I defeated some of the top judokas from Belarus and Australia in the World Cup and they will all be there in London.
"Looking at the field and my recent performances, I am confident of my chances in the Olympics," Garima said before leaving for a three-week training stint in Germany and France.
The general perception that Garima should get a medal is reinforced by her confident interaction with the media.
"For me the Olympics is another sporting event and I am not gripped by any fear or excitement. I have quietly studied the videos of all my opponents and I know exactly what I should do when I face them.
"So there is absolutely no pressure. Yes, I am excited that I will be India's lone judoka there," said Garima.
Judo, a sport not too highly popular in India, saw Tombi Devi and Divya Sharma represent the country at the 2008 Beijing Olympics.
Garima said due to the anonymity of the sport in India, she had absolutely no pressure and that would be an advantage for her when she faces tougher opponents.
"Not many people know about the sport or me yet, so I go into the event with hardly any pressure. The pressure will be on the big-name athletes of Japan and other countries," said Garima, who won her first medal at the sub-junior nationals in Odisha.
Asked about the reasons behind her taking up the sport, a sly smile enveloped the Olympian's face.
"As a kid I use to fight a lot and used to beat up my friends. My parents looking at this pushed me into the sport and I joined the centre of excellence in Patiala at a very young age.
"From that point on, I have never looked back. I am very lucky that I met Jiwan (Sharma) sir (her coach), who works at the Centre of Excellence at Patiala. He has played a huge role in grooming and developing my skills," she said.
Speaking about her training, Garima said, due to a lack of world class talent in the country, she had to rely on fighting against the boys to prepare for the London Games.
"There aren't any world class fighters here, so it gets a little difficult to train. I have been fighting against the boys to prepare myself."
She feels she still needs to make some changes to get ready for an event like the Olympics.
"Earlier my style of fighting was very aggressive and it lacked control. However, now I have learnt to play the waiting game and look for the opponents to give me an opening."
On a lighter note, she said judo wasn't the only thing in her life. She loved watching cricket and tennis with Sachin Tendulkar and Roger Federer being her favourites.


Trending Now: