Indian- American woman who lost her bid to enter US Congress is change agent now

Arun Kumar
&nbsp | &nbsp Washington
07-May-2012
Vol 3&nbsp|&nbspIssue 18
Reshma Saujani, the first Indian-American woman to run for the US Congress, now as a change agent wants to create opportunities for immigrants who have made New York City their home.
Although Saujani, a lawyer, politician and entrepreneur, lost her 2010 ambitious run against Democrat Carolyn Mahoney, a nine term member of the US House of Representatives from New York, she is now "exploring a race for citywide office in 2013."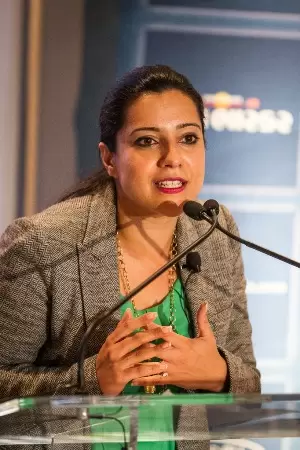 Reshma Saujani, the first Indian-American woman to run for the US Congress, wants to be the change agent for immigrants (Photo: IANS)
"My 15 months at the Public Advocate's office were truly some of the best of my life," Saujani, currently the deputy advocate for special initiatives in the watchdog body charged with ensuring that all New Yorkers have a voice in shaping the city's policies, stated in an e-mail interview.
"What we were able to accomplish with the Fund for Public Advocacy, from encouraging immigrant entrepreneurship to providing scholarships to undocumented students was powerful," she said.
"I'm committed to being a leader in charting the future of New York City, and I want to keep creating opportunities for the people who live here."
Explaining what made her run for the US Congress in the first place, Saujani said: "Things were not getting done in Washington, and I was frustrated by the lack of leadership and the lack of political courage we were seeing in Congress."
"I was noticing people around me become jaded and I wanted to do something to change it," she said.
"New ideas are so important for driving innovation in this country, and I wanted a chance to get my ideas out there, and talk to voters in New York City about theirs."
But "the experiences I had talking with voters every day showed me what a difference could be made by showing up, by being at the senior centre or the street fair and meeting the people that are working to make a difference in our communities," Saujani said.
"I've always been an organizer, and as the daughter of immigrants I have always been especially passionate about engaging people in the political process, who have been excluded from it or who felt no one was listening to them."
"The Light of India Awards", are "A powerful way to celebrate the work Indian Americans are doing and to show their innovations and accomplishments," Saujani said noting that they "are in every form of government from policy leaders to activists to change agents."
Author Jhumpa Lahiri, television personality Padma Lakshmi and CNN contributor and surgeon Sanjay Gupta are among the nominees for the second annual Light of India awards, recognising excellence and exemplary achievements of Indians abroad.
The winners of the awards, instituted by Remit2India, a Times Group service, in the fields of business, education, science & technology, arts & entertainment and literature & journalism, will be announced June 1 at a gala event in New York. - IANS

Trending Now: