Bank robbers shot dead by police in Chennai gunbattle
23-February-2012
Vol 3&nbsp|&nbspIssue 7
In a midnight gunbattle at a residential locality here Thursday, Tamil Nadu police shot dead five people suspected to be involved in two suburban bank branch robberies.
"Five people are dead and two policemen were injured," Chennai Police Commissioner J.K. Tripathy told reporters here.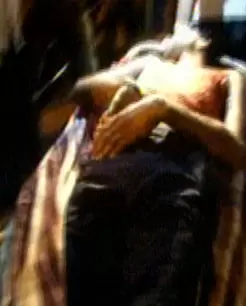 One of the alleged robbers shot dead in the encounter (Photo courtesy: Nakkheeran)
The dead have been identified as Vinodkumar, Vinaykumar, Harishkumar, Abheykumar and Chandrikhare. While Chandrikhare was from Bihar, the others were from West Bengal. They were in the age group of 30-35.
Police said they got a call in the midnight that warned them of some suspicious characters in an apartment in Velachery locality.
A police team immediately went to the spot and asked the residents of that apartment -- located on the ground floor -- to come out.
However, the residents instead of coming out opened one of the windows and started shooting and injured two policemen.
Police then surrounded the building and started shooting in self defence. The exchange of fire continued for an hour.
Later, when police entered the apartment they found five people in a pool of blood.
Police also recovered around Rs.10 lakh from the apartment.
The five people had been staying in a rented apartment, saying they were students in the city.
After two shocking bank robberies at gun-point here, police had formed 45 teams and started investigating the case.
They zeroed-in on one person who was caught in the closed circuit television (CCTV) at a bank branch and released his portrait.
Residents of the locality said they were shocked when they came to know about the gun-battle in the morning.
"It is very shocking to know that five bank robbers were staying in our locality," said a resident. - IANS


Trending Now: