Bollywood item girl Yana Gupta is a budding non-fiction writer
Madhusree Chatterjee
&nbsp | &nbsp Jaipur
23-January-2012
Vol 3&nbsp|&nbspIssue 3
If you want to look right, you have to learn to love your body, says model-turned-Bollywood item girl Yana Gupta who is also a budding non-fiction writer.
"Love yourself unconditionally. If you look in the mirror and don't like what you see, you don't start it... It all starts with the love, energy and the relaxation that comes into your life with loving yourself," said Yana at the Jaipur Literature Festival.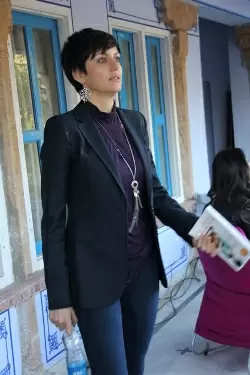 Model-turned -actress Yana Gupta was at the Jaipur Literature Festival to promote her new book on fitness (Photo: IANS)
Glowing after her battle to get the right body and inner calm, she lent a touch of glamour to the literature gala where she dropped in to promote her book, "How to Love Your Body and Have the Body You Love" - a fitness guide book published by Penguin India.
The Mumbai-based Yana points to three simple ways to freedom from body blues.
"Eat small portions of healthy food and eat often, be comfortable with yourself and learn to love yourself. Clothes can be the creative expression of yourself. It can make you feel this is me and gives you room to be more creative," the fitness diva said.
Her book is the story of her life - a recall of her victory over the demons in her head that got to her body. She tried every diet and fitness regime that could get her back to shape.
But the fear tore at her psyche till she found love within herself and balance. "I was human as anyone else and there was something about myself that was stopping me from being happy," Yana said.
She writes of her experience with eating disorders to prescribe healthy eating habits, best nutrition and right workouts to young Indians on the move.
"I had a complicated relationship with food. I was trying to look the way they wanted me to. Lot of women in this country are under the same pressure to look a particular way," she said.
The self-help tips in the media can force "women to be harsh on their body... and they go on trying to get the right look".
Yana said she wanted to bust a few myths about the perfect body and fitness.
"I was supposed to have the perfect body, but I never really saw myself as perfect. It is not about kilos... healthy diets make you feel different," she said.
Yana, of Czech origin, cooks her own meals. "I use the steaming method to cook and carry food with me all the time - even on flights. I recommend certain ways to cook in my book."
Yana's book explores alternatives too - like how to make the best out of 'dabba' meals so common in cities like Mumbai.
"But there is so much freedom in how you are and accepting it. I feel this is an issue for women, they have to appreciate themselves for how they look like," she said.
Yana is working on another book -- "a non-fiction about relationships". - IANS


Trending Now: