Cyber porn: Technology is exploited for crimes against women worldwide
Donna Demetillo-Mendoza
&nbsp | &nbsp Manila
20-January-2012
Vol 3&nbsp|&nbspIssue 3
You are surfing the Internet. In the mood to listen to some music you go to google.com and as the search engine materialises on your screen you type the desired website address. One click. One more. You are now on your favourite website.
As you scroll to pick your song, suddenly there's a pop up… a scantily-clad young girl is asking you out on a 'date'. "Do you want to meet me tonight? Call me and we'll get together," she says provocatively. Neon-coloured numbers flash the next moment. Hurriedly you shut this window but then another one pops up in just a few seconds.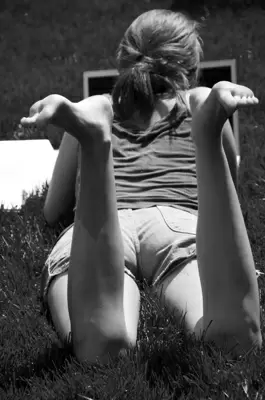 There has been a steady rise in the number of cases of cyber violence against women (Photo: WFS)
This is what the average online experience is all about these days. Within 15 minutes of having logged onto the World Wide Web, you end up being solicited by girls barely out of school.
Anna (name changed) used to be one of them. She grew up in a world where sexual abuse was an everyday occurrence. She was subjected to family abuse, having been raped by her father, cousin, and her brother.
Later, she became 'famous' online as "Hot Delight" or "Asian Babe". She would pose, dance, and play with herself in front of the camera in a relative's computer shop.
Besides this, Anna was also made to meet customers in hotels, and payments for the sexual services she rendered – she made PhP 1500 (US$1= PhP 44) per client - were deposited directly into the website owner's bank account. To keep anyone from finding her, Anna was frequently made to shift her base; the websites that featured her also varied.
Anna was finally rescued from the clutches of cyber-prostitution when she was 12. However, by then the youngster was not only suffering from multiple physical problems, including acute bleeding and anaemia, she had also undergone irreparable psychological trauma.
Be it at home, in the workplace or on the streets, women and girls lead vulnerable lives and across the globe, societies have been fighting violence against women for decades now. Today women are not even safe online any more, for cyber crime is hard to trace and tougher to fight.
There has been a steady rise in the number of cases of cyber violence against women in The Philippines. One of the first high profile cases that sent shock waves throughout this southeast Asian nation was the sex video scandal involving popular actress Katrina Halili and Dr Hayden Kho that came out in May 2009.
The case created headlines, as Halili vowed to make the well-known cosmetic surgeon pay for releasing a video of their intimate moments on the Internet. The Philippines cover-girl of 'Maxim' magazine sought the help of the country's National Bureau of Investigation (NBI) to determine what case could be filed against Kho. Media reports quoted her saying: "He should pay so that men will not do the same to other women, so that there will be no more victims…"
But while the Halili-Kho case created some awareness about the existence of violence against women in the cyberspace, not much has been done by way of tackling the growing problem.
Says Chang Jordan, Programme Officer of the Women's Legal Bureau (WLB), a feminist legal non-government organisation based in Manila, "Despite recognition that the problem exists, it is an issue that is largely overlooked and even trivialised." According to the activist, "Even without physical contact, the victim can feel the violence of the act. Moreover, there may be long-term psychological scars as a consequence."
Today, technology is being exploited for criminal activities and entails huge profits. There's an increasing trend of cyber-sex being intertwined with cyber-pornography and cyber-prostitution, thanks to powerful criminal syndicates that have no compunctions about victimising innocent and vulnerable women and girls. Of course, poverty and the lingering economic crisis are only making it easier to target such women.
After the Halili-Kho scandal made big news, many more chilling cases have come to light. In Cordova, Mactan, a picturesque holiday resort in the Philippines, a married couple was arrested for involving their five children – ages 4, 8, 10, 12, and 16 – in cyber-pornography.
In Metro Manila, Jane (name changed) suffered from an invasion of privacy when her ex-husband posted pictures of her and their daughter on a fake Facebook account. Though no malicious pictures were uploaded, personal details and contact numbers were posted, which later found their way to various dating sites.
According to Jun Congzon, NBI's Chief of Cyber Crime Unit, the bureau receives around five to 12 such cases from Metro Manila alone. But, while the number of such cases keeps escalating, none have secured prosecutions because of a lack of legislative protection as well as because of their "cross-border" nature. "Some cases have reached the prosecutor's office, but there have been no feedbacks yet," reveals Congzon, whose unit was established in August 2010.
He adds, "Basically, the problem is identifying the perpetrators because ISPs (internet service providers) and telecommunication companies refuse to cooperate in providing vital information to track down the source of the offence. In addition, these crimes cross borders and much of the information has to come from abroad."
Other challenges faced by Congzon's unit, include the lack of forensic equipment, personnel and inadequate education and training of personnel as well as law enforcers, prosecutors, and judges. Added to these is the difficulty in regulating the content of both local and foreign websites, as well as the absence of a cyber-crime law in the Philippines.
Currently, the NBI books such cases under the following existing laws - the Revised Penal Code; Anti-Child Pornography Act of 2009 (RA 9775); Anti-Violence Against Women and Their Children Act of 2004 (RA 9262); Anti-Photo and Video Voyeurism Act of 2009 (RA 9995); the E-Commerce Law (RA 8792); the Access Devices Regulation Act of 1998 (RA 8484); Anti-Trafficking in Persons Act of 2003 (RA 9208); and the Special Protection Against Children Against Abuse, Exploitation, and Discrimination Act (RA 7610).
But as Atty. Maria Karla Espinosa, WLB Legal Researcher, puts it, "There is no express and exact definition of new, emerging forms of violence against women (VAW), or the concept of Information and Communication Technology (ICT)-related VAW in Philippine law, although recent laws (RA 9208 and RA 9995) recognise that some forms of VAW can be committed through the use of ICT."
This ambiguity in the legal definition creates problems while prosecuting ICT-VAW cases. For now, it is divided into three broad categories: Cyber-harassment, cyber-pornography and cyber-trafficking. Espinosa explains, "Take out the word 'cyber' and they become familiar terms and crimes under our law. They are virtual counterparts of existing crimes."
But Espinosa questions whether the law recognises cyberspace as a distinct world or an extension of the real world. Moreover, in many cases it is difficult to identify the offender and the place where the offence was committed. "How do we trace (the offender)? Knowing the place where the offence was committed is important in criminal cases in order to determine proper jurisdiction for prosecuting the offence," she adds.
Dealing with ICT-VAW cases also throws up issues related to the freedom of speech and expression. The right to privacy is a matter of concern as well. "Does the law purposely recognise areas of privacy? Does the law treat cyberspace as a public space that is subject to government control and regulation; or is it a private space?" asks Espinosa.
All her questions remain unanswered. But one thing is for sure: Cyberspace violence is a grave criminal offence that has severely detrimental effects on women, and that the issue needs to be prioritised so that concrete legal systems may be put in place. - Women's Feature Service

Trending Now: