Marriages in Washington go 'band, baja, barat' way
Arun Kumar
&nbsp | &nbsp Washington
15-December-2011
Vol 2&nbsp|&nbspIssue 49
It's the marriage season for Indian Americans too. And those who wish to marry in the traditional style - and who doesn't - can do so with 'band, baja, barat' et al right here in the American capital!
Be it the 'sherwani' or the 'ghodi' for the groom, zari-embroidered 'lehnga choli' for the bride, or the 'mandap' for the marriage ceremony and the horse buggy for the 'doli'- one can get it all from one stop 'desi' wedding planners.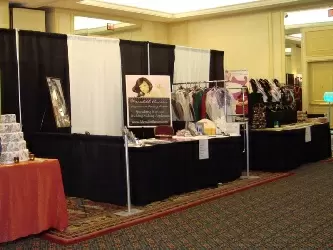 From custom designed 'mandap' to 'ghodi' for the groom and zari embroidered 'lehnga choli' for the bride, one stop 'desi' wedding planners can provide it all right in the American capital (Photos:IANS)
Depending on how much bang you want for your buck, one can get married in desi style for anything from $1,500 to $50,000-60,000, says Ved Mehta who with spouse Manju Mehta has been running one such shop called 'Shagun Weddings' in the Washington metro area for the last 10 years.
"Every Indian gets married in the traditional style," said Mehta at a recent Bridal Expo bringing together wedding decorators, event planners, photographers, videographers, DJs, caterers, makeup artists and what not under one roof.
"It's a very good business, but it's tiring because it's lot of work," said Mehta who organises three-four weddings every week all the year round except during 'shradh' time (remembering the dead).
"The number is also a bit low in January-February when it's cold; otherwise every month is busy, especially over the long weekends."
"Yes, people like 'ghodi' a lot, say about 40 percent," said Mehta, who has three, four vendors who can provide the traditional groom's ride. "If the customer wants an elephant, we bring the elephant. If they want to come by helicopter we can do that too!"
"But now the trend is changing," he said as lots of people now get married in waterfront hotels and many a groom's party arrives by boat. Others come by car or even by helicopter."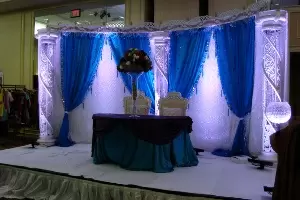 Basic materials for the 'mandaps' are imported from India
The Mehtas import their basic material from India and get the 'mandaps' made in various colours and styles custom designed by Manju. It takes a couple of months to put the whole show together, but Mehtas with a trained staff of 9-10 people can do last-minute weddings too.
"Manju started it as a hobby. She just wants to make people happy," said Mehta. "When our kids get married," she says, "I am not going to do anything." She'll just sit back and relax as her customers do now.
Like the Mehtas, Reena Aggarwal too gets the embroidered material from India and turns them into suits, sarees, and lehngas, stitched to size. The cost: from a few hundred to a couple of thousand.
From complete bridal ensembles to gold, silver and costume jewellery to traditional apparel for men and children, her one-stop Reena's Boutique has everything.
And to record it all, there is always Bobby Singh, who offers special wedding packages from $2,000 to $8,000 with fancy albums with digital pics from 'shagun' to 'mehndi' to marriage. - IANS


Trending Now: