Kerala is an ideal spot for relaxation: Asin
12-December-2011
Vol 2&nbsp|&nbspIssue 49
It is just another day in Bollywood when a shiny new doll makes her debut in a purported blockbuster opposite a big star. Another Pretty Young Thing, you could almost hear the (jealous) chorus.

Not Asin Thottumkal. The spark in her eyes and the verve in her step suggest she is not one to go away anytime soon. And how you wouldn't want it any other way either.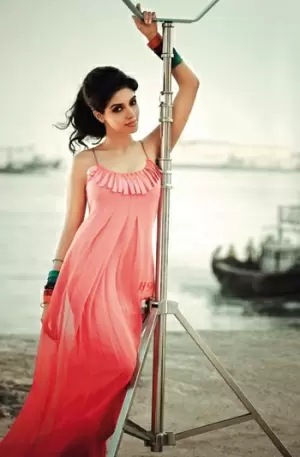 Asin's favourite piece of land on earth - Kerala! (Photos: The Sunday Indian)
An actor from the South, but not quite conforming to the conventions of a traditional 'South beauty', this fair and svelte lady started modelling at the age of 16. "The age of 14, to be precise," she interjects.

How does anyone get sucked into the world of glitz and glam so early? "I think basically I owe it to people around me. In school I was good in academics, but I was also the cultural head of the school. I was into dance, drama and plenty other cultural activities.

"People noticed and mentioned that I have a photogenic face and that I should try modelling. I was already participating in inter-school arts competitions etc. and so it wasn't entirely unthinkable. I started modelling, but when I say modelling, I don't mean ramps or fashion shows; I got started in ad campaigns, print ads, magazine photo shoots, magazine covers etc.

"Modelling per se and then films were a sort of a natural progression after that since you start to get recognized by people around, by the audiences, by the industry folks; soon film offers started coming in," she elaborated
On a dull noon on the most moan-inducing day of the week – Monday – Asin perked it up for me with an ease that seemed to be just her wont. Hailing from the heart of God's own country – Kochi – Asin was only all too enthusiastic to discuss her favourite piece of land on earth.

"Ideally a trip to Kerala should be when you are looking for a break from your regular routine of fast-paced hectic life; you'd feel a calm settling in as soon as you step out of that flight!

"There is greenery everywhere you look; it's beautiful and very scenic to say the least. And you have the whole gamut of options in Kerala – you have beaches, hill stations, backwaters, green paddy fields… Kochi is next to the sea, it's a port – there is Ernakulam, which is the main modern city, and there is old Kochi, also called Fort Kochi.

"Kochi is just the place for history fiends, with its forts, Chinese fishing nets, old churches etc. You could take time off to explore both these aspects. You could also step out and venture out to other cities to enjoy more adventures and experiences that Kerala has to offer. It is an ideal spot for relaxation," she enthused.

One of Asin's favourite places in Kerala is Vagamon, a less hyped but lovely hill station. She is wistful about never getting to witness the famed boat races of Kerala live, but has vivid memories of her adolescent years and fave haunts.

"I have my house right beside the Marine Drive facing the port, the sea. In the morning you could sit in the balcony overlooking the sea, reading news that announces the arrival of this ship from Germany at the port, while actually seeing it come in!

"The Marine drive, the Rainbow bridge, the whole walkway is very attractive and scenic. Then there is Cafe Bubble in Hotel Taj in Kochi right next to my house which is a nice place to hang out; great ambience, good music, and exquisite ocean view.

"Afternoons are a nice time to go there. MG Road is a great place to shop. There used to be the Convent Junction behind my College in Kochi, that offers exhaustive scope for shopping for girls; the whole vibe of the place is very nice and youthful," she suggested, even as she sounded like she was prancing in the lanes of that vibrant city.
To her, Kerala comes alive at the time of Onam. Gushing and patient by turns, she explained how Onam is one of the most important festivals for any Malayali.

"We would look forward to new outfits especially bought for the occasion. I would start my day by picking flowers for the traditional flower rangoli in front of the house.

"Then there is this Thiruvathira Kali dance which we perform around it. The highlight of the day is the feast of course, the Onam lunch or Onasadya. Women of the house would prepare the feast; it's a vegetarian spread, eaten best on a banana leaf on the floor topped off with payasam – the king of desserts.

"The legend goes that Mahabali – you can think of him as the Malayali version of Santa Claus – returns to his land once a year to visit his people and wish them good tidings. I used to study in Naval Public School and thus had friends from different states and parts and cultures of the country, and they would all come to my home to experience this festival. My family would get together as well and it used to be a lot of fun," she fondly recalled
Since her career always involved a lot of travelling, her relocation to a bustling metro like Mumbai was next to effortless for her. "I was born and brought up in Kochi and did my studies there but I started working when I was 14 and I have been traveling ever since, so I adjust to situations and places easily. In fact I like travelling, exploring different cultures and meeting a lot of people.

"I have done films in Tamil and Telugu; I had a base in Chennai and in Hyderabad for a little while before finally moving to Mumbai as I started doing films in Hindi. I didn't find it difficult to adapt to Mumbai because my life in a way was very fast paced in itself."
When conversing with Asin, you can be excused for forgetting she's a star, for the unassuming air and the easy laugh disarms one faster than Salman Khan would take to get his shirt off in his hits.
Remind Asin about co-starring with the likes of Sallu bhai and Aamir Khan, and she says, "They are my seniors; I look at them with a lot of respect. I don't think I could chit chat with them or indulge in some back biting with them (laughs). The youngsters maybe... we would have more common things to talk about."
Beyond the common things to talk about, pranks seem to be common too, especially when travelling together. She smiled that high-wattage smile as she recalled, "I was quite young... I remember I was in New Zealand, preparing for bed at the end of a hard day's shoot when I hear a knock on my window. It was evening and there was this violet-purple like light outside. I peered outside the window but couldn't see anything.

"Then I heard stones raining on the window and then on other windows. I sit up; there's a pause and then the knocks continue. I saw people walking outside my window. Towards the end of the whole scene, as I sneaked around, I realised the crew was playing a prank on me. They had arranged to randomly knock and throw stones to freak me out! Thankfully I caught them at it, else I would never have had the courage to open the darn door."
Doors would open for her everywhere, but left to her where in the world would she want to settle? Without batting an eyelid, she says, "Anywhere in India would be ideal. I have travelled around the world but I love my country".

Home is where the heart is, and Asin looks like she's got hers in the right place.
By arrangement with The Sunday Indian


Trending Now: