Four engineering students have showcased Assamese music on the web
Prantick Majumder
&nbsp | &nbsp New Delhi
10-December-2011
Vol 2&nbsp|&nbspIssue 49
Arnab Deka, Utpal Kalita, Jaki Neog and Ronnie Robinson Muchahari, studying at SRM University in Chennai, consider the venture a "service to the people of Assam", so that Assamese people living all over the world do not feel the absence of their state's music.
"In spite of our busy college schedule, we try to keep connected with Asomtube users via the site and Facebook as much as possible so that we can build a strong customer-client relationship," Deka said from Chennai.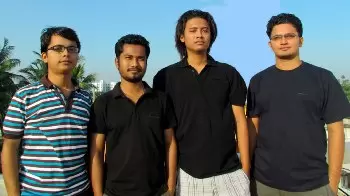 The Asomtube team -- from left Arnab Deka, Ronnie Muchahari, Jaki Neog and Utpal Kalita (Photo: IANS)
The four came up with the idea in December 2010 when they felt the "necessity of a site that will host only Assamese music and videos".
"People living in Assam have easy access to Assamese music but Assamese people outside live in a constant drought," Deka said.
"Except the audio CDs and VCDs they take along with them, most people do not get to hear more than that in spite of good internet connections abroad and in other parts of India," he added.
They felt there was not a single website where an ample number of Assamese songs were available. So they thought it was a novel idea "to serve the Assamese music lovers" and started Asomtube.
Users, both from Assam and living outside the state, are quite content with our service, Deka said.
The website that boasts of songs of famous Assamese musicians like Bhupen Hazarika, Zubeen Garg, Angaraag Papon Mahanta, Jayanta Hazarika, Dipali Barthakur, Dipen Baruah and Pulak Banerjee is operated from their residence in Chennai.
Asomtube also has a collection of stage shows, documentaries and news clips.
From data maintained by the team, around 76 percent of visits to the website are from India, mostly "non-resident Assamese" in Delhi, Mumbai, Bangalore and Chennai.
Around 4.5 percent visitors are from the US, 3.33 percent from China, one percent from Britain and 16 percent from other countries.
Asomtube commands an average of 300 visits per day and has been visited over 151,578 times, Deka said.
"I came to know through Facebook about the website. Many of my Assamese friends are sharing the songs from the website, particularly after Bhupen Hazarika's death last month. We relish the songs more because we are living outside Assam. We can easily find the songs we are looking for there," said Kunal Doley, a journalist from Assam based in Delhi.
Bipul Talukdar, a BPO executive hailing from Guwahati, said: "I love the site, particularly the collection of old Assamese songs that you don't find easily in the market these days. I love the songs of Jayanta Hazarika."
The Asomtube team is trying to promote its website via Facebook, where it posts updates about new additions to the site.
Deka urges everyone to be part of Asomtube by sharing the media. "We are open to all those willing to release any songs, movies or documentaries," he adds.

(Check out their website Asomtube) - IANS


Trending Now: