A village moves ahead soberly and systematically to a concrete future
08-December-2011
Vol 2&nbsp|&nbspIssue 49
After a 2-hour rickety bus ride from the cotton town of Sendhwa in Madhya Pradesh, the signboard 'Nasha Mukt Sankalp Sthal' is an intriguing white spot before the serene landscape of the Satpuda mountains.
A closer examination reveals details of a mass vow taken towards complete abstinence from alcohol and other intoxicants, and petty quarrels too.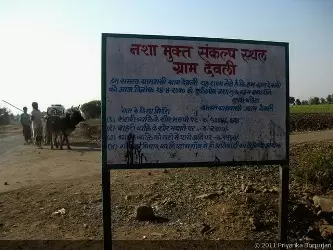 A village in Madhya Pradesh took a vow to reform and is transforming itself into an 'ideal village'
In 2009, 25 Sarpanches of villages from Sendhwa and Niwali blocks headed to Hiware Bazaar, a village close to Anna Hazare's Ralegan Siddi. There they witnessed the Gram Sabha functioning in a Utopian way.
Upon returning, Mukesh Duduway from Devli began to discuss his village with the members of Adivasi Mukti Sangathan, a grassroots group which has been working in Badhwani district since the early 90s.
"Our village is home to some brilliant minds – one auditor in the Panchayat, one thana inspector in the police, one engineer and 19 teachers. And yet, we are reeling under bad health, malnutrition, low agricultural productivity, low standards of education and corruption," they wondered.
Kahar Singh Senani, a resident of the village, had a wide perspective on development owing to his job as a senior engineer with the state government. In February 2009, he invited the village folk – mostly the Bhilala and Barela tribes – to his residence for an informal chat.
Surprisingly, the 500 men and women who turned up spoke openly about petty fights being bred through the government's non-delivery of schemes, and cited alcohol as a nuisance.

A detailed survey of the 380 households revealed that only 15 families were living off their own agricultural produce, while others survived as daily wage labourers. Despite this poverty, people had been extravagant during weddings and spending on alcohol and beedi for guests.
A 14-point manifesto was drafted during a Gram Sabha on April 14, 2009. That's when a collective oath was taken to ban the entry of alcohol in Devli, and slap a fine of Rs 1,500 on any resident who was found to have consumed alcohol.
An existing alcohol shop became an eyesore for the reforming village. "Senani is a rich man. He paid the shop owner Rs 52,000 to shut the shop. Now, we have a general store there which is run by women," says Mukesh, 42, proudly.
Once, a letter was sent to the cops to get 14 men of two other villages punished, as they had been luring the youth of Devli to get back to alcohol.
As part of the manifesto, several committees were created. The senior men and women have been entrusted the work of advising on marriages and compatibility; another committee of women inspect cleanliness within the village.
One more committee is helping to build a corpus stock of grains with an aim towards entirely doing away with the government's public distribution system (PDS). The village also has a vision of a colony of concrete homes for all by 2015.
The people in Devli have also collectively decided against burning wood during Holi.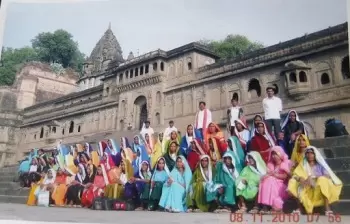 A photograph taken during the day-long visit to Indore is cherished
"We suddenly realised that the women from our village had never stepped out. In November 2010, three men accompanied the women during a day-long trip to Indore. Apart from the tourist attractions, we went to Big Bazaar mall where we used the elevator.
"We went to the airport, and got each woman a platform ticket to explain the railways to them. The women were surprised to see other women driving cars all by themselves. It made our women to think a lot about their own lives," smiles Mukesh.
Mukesh has no ambition of becoming a Sarpanch. He leaves that job to Lakha Duduway, who has recently taken on the reins of the Sarpanch from the younger of his two wives, Jinabai.
"I offer my tractors and bulldozers for free for development work within the village. This is my 'shramdaan'," Lakha says.
Village naysayers are happy that Lakha is leaving behind his crude ways, albeit in the hunger to be known as the Sarpanch of the 'ideal' village.
"Look at our village today. You will realise that there is no poverty in the world; only laziness," Lakha says, before he zooms off in his bike.

Priyanka can be contacted at [email protected]


Trending Now: