Two women rag pickers from Maharashtra bat for India's poor in Durban

Stella Paul
&nbsp | &nbsp Durban
08-December-2011
Vol 2&nbsp|&nbspIssue 49
The big red bindi, the green glass bangles and the colorful sari notwithstanding, Suman More appears frail, tired and a little overwhelmed by all the hustle and bustle around her. But, ask her what brings her here and her eyes lighten up, her tiredness vanishes.
"We, the rag pickers of Pune (that's where she comes from) are in big trouble. We recycle a lot and help keep the environment clean. But now we are losing our livelihood. I am here to tell the world about that." she says, not mincing words.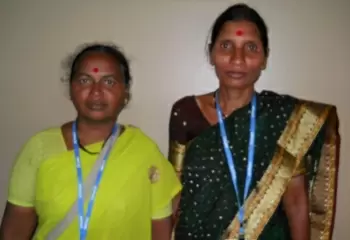 Suman More and Susheela Savle are in Durban to speak up for the rag pickers of Mumbai
Susheela Savle, sitting next to Suman, nods. Susheela, 44, is from Mumbai and like Suman,is already a young grandmother.
However, unlike Suman, she has been to a climate before. She had attended the Copenhagen summit in 2009, and, she had been to China too, to speak for the rag pickers at a climate change conference.
Susheela is quite articulate and tells about the problems that have been dogging the rag pickers of Mumbai.
"Though some of us work for the municipality, most are free roaming rag pickers who pick up waste from every corner of the city that include streets, abandoned plots and the city dumping grounds. But now there are privately owned companies who are setting up landfill and recycle projects.
"They ask us not to use the dumping ground any more. And we do not have any others means to support ourselves. So, in the climate summit, we are asking governments to recognize our work as waste managers, recyclers and create a small fund that would help us continue our jobs."
The city of Mumbai produces 7,025 tons of waste every day. And, it's people like Susheela and Suman who form the force that collects, sorts, segregates and manages this waste, keeping the city clean.
Now, they are asking for being accepted as a legitimate partner by the cities in their plans to fight climate change and build low carbon environment. But do they have the skills or capacity required?
Susheela has a ready answer: "We know segregation better than others do. Most of us are trained in composting. In fact more than 3,000 of us in Mumbai alone know how to set up bio gas projects.
"Given an opportunity, we can help the government manage the waste very well. But, if the government still wants to go ahead with private companies, it can at least give us some loans under the fund we are demanding, so we can set up our own recycle units and make a living.'
According to Susheela and Suman there used to be around ten thousand rag pickers in Mumbai alone, but the number has now decreased to about half. As free roaming rag pickers, they roughly make Rs. 100-150 (USD 2-3) per day by picking up waste and selling the recyclable material to scrap dealers. But after being denied access to dumping grounds, they have been forced to take up other work. Many have become house maids.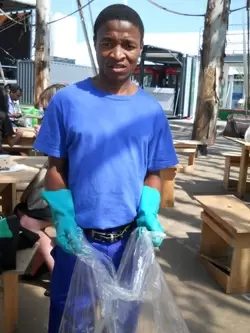 An African rag picker
"The society looks at waste pickers as thieves. So, when we women go looking for work, home owners ask us about previous jobs. The moment they hear we are waste pickers, they either refuse to give us work or pay us far lower wages. So, most women make only half of what they would earn as rag pickers."
The situation is quite same all over the world, say Susheela and Suman, which is why they are finding support from rag pickers in other countries too who are also facing loss of livelihood and starvation.
In Durban, they have been joined by rag pickers from Costa Rica, Brazil, Senegal and South Africa. Together they have been trying to make their presence felt by meeting people in and out of the summit, screening films on their lives and demonstrating on the street.
But it takes more than a mere demand to bring a policy change at the global level, especially something like the creation of a global fund.
"Here, every country is promising to reduce poverty and help poor people. We are the people from the street. We are the poorest of the poor. If nobody hears us here, who will hear us then? So, we will continue to demand because we are asking for a legitimate right to survive," say the women.
Given their determination, these Dalit women are sure to succeed in their fight for justice.


Trending Now: