Kannada films too have their 'why this kolaveri' type songs; just hear them

M S Sunil
&nbsp | &nbsp Bangalore
26-November-2011
Vol 2&nbsp|&nbspIssue 47
Le mama, "Kolaveri Kolaveri di" super mama. Sounds weird, but it's turned out to be a popular hangout usage among many people.
Kolaveri - meaning 'murderous rage' - is now popular in many parts of the country, thanks to the peppy song 'Why this kolaveri di?' from upcoming Tamil flick '3'. (Kolaveri Kolaveri ).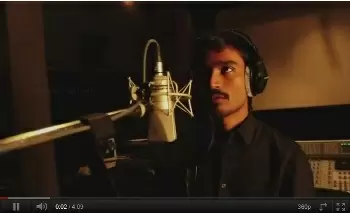 Dhanush singing 'why this kolaveri'
The song is written and sung by Dhanush, son-in-law of superstar Rajnikanth. The song after all is a collection of colloquial words and slang rendered in a rhythm which is kind of striking chord with the masses.
If popular literature is all about arranging unconnected colloquial words and slang in a weird sequence so that the masses catch a single word to hum around, then Kannada songs of recent times score much over Kolaveri Kolaveri.
Bizarre lyrics, sometimes even vulgar lyrics are quite common in Kannada cinema these days. Like kolaveri, we have numerous songs which have virtually (or literally) zero literary value. They are just a few lines of local slang.
Though not in the same context, close competition to kolaveri in Kannada is "Chambeshwara" written by Yograj Bhat and sung by Punith Rajkumar (son of legendary actor, late Dr Rajkumar).
The song makes no sense and has no essence of literature. It's just a song inserted in the stupid movie for the heck of it. Song has no message and is just a sequence of colloquial words arranged for a beat.
But it was a phenomenonal hit. I watched the movie on the day of release in a packed multiplex hall. The crowd whistled to glory once this song started.
(The movie was so stupid that all the over enthusiastic crowd regretted their whistle.)
Typical example of bizarre and awful lyrics is the song "Amma loose a?" from the Kannada movie Dhool (Listen to it here). I do not know the lyricist but whoever he is, the words are idiotic, sentences are unconnected and there is absolutely no sense in the song.
But this was the most popular song in this year's Street Ganesha festival and local artists made merry with this song at all roadside orchestras.
I will be doing unpardonable injustice to Kannada literature if I miss out "Soap hakolo, mi ujkolo" from the movie Junglee. The list can go on like "Thaglakonde" and "kuri kolina" from Shivrajkumar's Jogaiah.
Most Kannada songs these days have very low or no literary value. They are seldom completely Kannada. They are either Hindi or English mix. Most songs are a set of awful words rendered to a popular beat.
It's surprising and disheartening that Kannada film songs which were at one time, not so long ago, composed by the likes of Hamsalekha, Jayanth kaikini, Monomurthy and host of other literary geniuses.
Kannada film industry was the only regional cinema industry which could easily adopt compositions of popular saints like Purandara dasa and Kanaka dasa into popular cinema.
It is perhaps the only industry which could easily adopt poetry from the stalwarts of Kannada literature into popular cinema.
Goplakrishna Adiga's "yava mohana murali kareyitu" from the movie "America America", Adiga's "Aluva kadalolu theli baruthide nageya haayi dhoni" from the movie Matadaana and a host of other songs serve as examples.
Over the course of time, somewhere somehow Kannada film industry lost the creativity in song compositions and also started giving up the practice of adoption from popular poetry.
Anyway back to kolaveri, I think the Kannada camp is not in any way lagging behind in making this kind of compositions.
Kannada films and Kannada film songs do not reach a wider Indian audience.
For historical reasons and for a much much better position of Tamil music and Tamil cinema vis-a-vis Kannada cinema in the Pan India context, the diffusion and acceptance of Tamil music is faster and deeper.
Also Tamil music and films cater to a far wider Diaspora (Malaysia, Singapore and other eastern countries), whereas Kannada cinema does not enjoy such a Diaspora.
But I am sure that the genius of "Chambeshwara" and "Soap hakolo" can one day overtake kolaveri !!!
Sunil is an entrepreneur and blogger based in Bangalore


Trending Now: