Election Commission to reach out to youth via Facebook and Twitter
26-November-2011
Vol 2&nbsp|&nbspIssue 47
The Election Commission of India will soon use social media sites like Facebook, Twitter and YouTube to attract youth to take part in the electoral process, a commission statement said Friday.
Recognising the power of social media sites to attract youngsters, the commission organised a workshop here Thursday to discuss the modalities on tapping these to enhance electoral processes.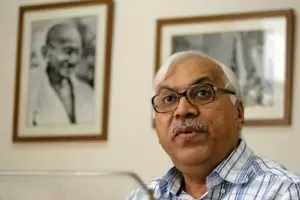 Good thinking: Quraishi wants to transform India from largest democracy to greatest democracy (Photo courtesy: Tehelka)
"The workshop discussed modalities of the Election Commission of India's engagement with internet based social media like Facebook, Twitter, YouTube and blogs, which is to commence very soon," the statement said.
This was the first time a workshop on these lines was organised by the commission.
Inaugurating the workshop, Chief Election Commissioner S.Y. Quraishi said higher participation of voters and ethical voting are the key to strengthening electoral democracy.
"He highlighted the strength and spread of social media and observed that the Election Commission cannot overlook its outreach," the statement said.
Quraishi said such "measures like engagement with social media will contribute to India's step up from being the largest democracy to the greatest democracy".
He also said the commission has developed and implemented a strong agenda on voter's education and expenditure control, and would like its proposed reforms on decriminalisation of elections to become a reality at the earliest.
"He called upon voters to turn out in high numbers and select good candidates instead of castigating politicians," the statement said.
The workshop was organised by the systematic voter education and electoral participation division of the commission.
Election Commissioner V.S Sampath described social media as a new area for the commission that is full of possibilities. - IANS


Trending Now: