Nuclear corporation to allow general public inside power plants
11-November-2011
Vol 2&nbsp|&nbspIssue 45
Strong public opposition to nuclear power plants, especially the near-complete Kudankulam plant in Tamil Nadu and the proposed one at Jaitapur in Maharashtra, seems to have forced the Nuclear Power Corporation of India Limited (NPCIL) to adopt a new public relations strategy.

The corporation has decided to allow people to visit nuclear power plants or any of the NPCIL establishments whenever they wish.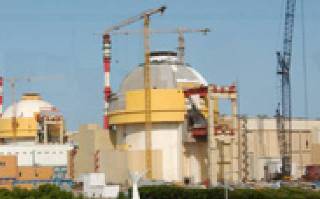 The Kudankulam Nuclear Plant has triggered a major debate on India's energy policy
The initiative has been announced on the website of the Corporation. Anyone in the country can now gain entry into NPCIL establishments by sending an online request.
He or she will just have to log on to the website of the corporation and click on any of the options given. These are: A) Would you like to visit any of our nuclear power plant sites? B) Invite us to your institution, college, school or any group to provide any information/clarification on nuclear power. C) You can post your queries regarding nuclear power and we would be very happy to reply to your address.

According to sources, the Corporation decided to open its doors to the common man to counter what it deems as misconceptions and fear about nuclear power among general public after the disaster at Fukushima in Japan earlier this year.

"There were several suggestions from various people that NPCIL should create an easy communication channel to allow people to know more about the Corporation and nuclear energy per se. It would help creating awareness about nuclear power and clear the misconceptions," says S K Tapkir, executive director (rehabilitation and resettlement) of NPCIL.

Travel, accommodation free
The corporation also promises to take care of the travel and accommodation of people visiting the facilities.

"The interested persons will have to post their details in the website and we will arrange for their visit to the nearest nuclear power plant, including Kudankulam," says Tapkir.

"We have been carrying out public awareness programmes by distributing booklets, arranging lectures and seminars, visiting schools and colleges and organising journalists' workshops to spread awareness about nuclear power. In spite of excellent nuclear safety performance of our plants and handling this complex home-grown nuclear technology in a responsible manner, the public perception particularly about their own safety has taken a hit after the accident at the Fukusahima reactors in Japan," says Tapkir.

The authorities at NPCIL feel that there is a great appetite for information about nuclear power which is not satisfied by round the clock news channels and the Internet.
It is not enough to be safe; being perceived safe has became equally important, says Tapkir. On many occasions, sensational information reached general public which was not authentic, he adds.

While there is considerable information provided on its website, NPCIL has often been branded as secretive because everyone now desires information in their inbox. Clearly, there was a need for another medium which will assure availability of information in a public domain, Tapkir said.

NPCIL has created a new portal on their website (http://www.npcil.nic.in) for answering questions on nuclear power, getting NPCIL team visit colleges and institutions and also arranging visits to the nuclear plants.

Activists hope NPCIL would become more responsive and communicate in a language that is simple and understood by the common man.

Vaishali Patil, convener of Konkan Vinashkari Prakalp Virodhi Smiti says NPCIL authorities should undertake some more initiatives.

"If the authorities at NPCIL really want to bring in transparency, they should suggest Central government to scrap nuclear secrecy act. It is a welcome step that they want to open their establishments to the general public. But they have not given satisfactory replies to questions by people from Jaitapur about safety," she says.

She also says NPCIL should conduct a scientific study on effects of radiation at Tarapore and health status of workers there. "They should release information on total number of accidents at various nuclear power plants," she adds.

Published by special arrangement with Down to Earth


Trending Now: