Chhattisgarh teacher Soni Sori on hunger strike, alleges police harassment
12-October-2011
Vol 2&nbsp|&nbspIssue 40
Soni Sori, the tribal teacher arrested on charges of being a Maoist conduit, is on hunger strike to protest alleged harassment by Chhattisgarh Police and Wednesday said she was being treated like a criminal.
The 36-year-old teacher in a government school in Dantewada, one of India's worst affected by Maoist insurgency, is hospitalised here with head and back injuries.
Brought to Chhattisgarh on transit remand from Delhi where she was held last week, Sori went on hunger strike Tuesday.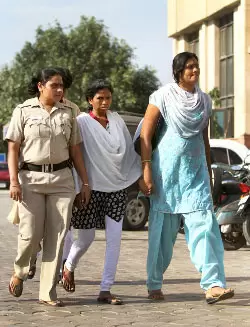 Soni Sori, who sustained injuries in police custody, has now accused police of keeping her chained violating her rights (Photo courtesy: Tehelka)
"They (police) are treating me like a hardcore criminal. They had put a chain on my legs... I oppose such moves by police," Sori told some media men at a government hospital here where the police brought her to recover from the injuries.
"Why are they treating me like a criminal? What did I do, why did they put a 'janjir' (chain) on my legs," Sori was heard saying in footage aired by local TV channels.
Police denied putting a chain around her legs or harassing her.
They shifted Sori to Raipur-based Dr. Bhimrao Ambedkar Government Medical College and Hospital Tuesday night from Jagdalpur, headquarters of the Bastar region, where doctors suggested advanced treatment for her injuries on the head and lower back.
Sori, who is accused of receiving money on behalf of Maoists from the Essar Group as "protection money", sustained injuries in Dantewada Monday while in police custody.
Human right activists had termed her injury a case of "custodial violence" and sought an independent probe to expose police atrocities while Chhattisgarh Police have denied the accusations and said Sori slipped and fell in the bathroom while in police custody.
Last week Sori had moved Delhi High Court requesting that the Chhattisgarh Police not be allowed to take her back to the state as she faces a threat to her life. - IANS

Trending Now: