In Bhopal families still drive vintage jeeps that give 7km/litre mileage
Shahnawaz Akhtar
&nbsp | &nbsp Bhopal
11-October-2011
Vol 2&nbsp|&nbspIssue 40
Bhopal has some of the world's oldest and finest jeeps. And these rare vehicles are not just showpieces in courtyards but actually ply on roads.
These left-hand drive marvels in modified green started ruling the roads of the city of lakes soon after World War II.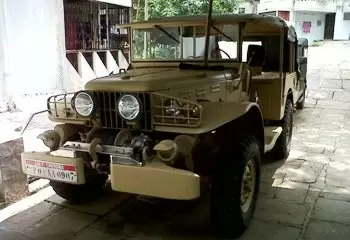 Drive me crazy! The Dodge company jeep nicknamed Super Jeep (Photos: IANS)
If youth of Bhopal have a craze for bikes, the family man has an identical craze for jeeps.
An eye assessment tells us Bhopal has more than 5,000 jeeps. These include the historic Austin Champ, Ford, Willys, Kaiser, Dodge and Mahindra model. Each is unique.
Austin Champ is known for its design, Kaiser is air-conditioned and Dodge is nick named Super Jeep as it is much bigger than the rest.
The last Nawab of Bhopal, Hamidullah Khan, had got an Austin Champ, now kept at the Noor-us-Sabah Palace here. He had also got a large number of Ford (1942 model) jeeps.
Ford's 1942 model is the one used during World War II by the US Army and its allies.
But the maximum number of jeeps Bhopal has is Willys 1952 model.
Some of the Ford models are 70 years old, but they are so well maintained that they move like the Sedan.
Though both Ford and Willys give only around seven kilometres to the litre, the owners have no regret.
"The last nawab of Bhopal was very fond of jeeps, which he used for hunting, his other passion," says historian Sayeed Akhtar Hussain.
"At the age of nine, the first major thing I had noticed in my home was jeeps and at the age of 10 I had started driving one," says Rizwan Mohammad Khan, the descendant of Nawab Hamidullah Khan "With time our passion grew and now we have five jeeps."
Rizwan shows his Ford (1942 model) with pride. "Its steering is on left side," he says. "it has a gun stand, a foot starter and a water-can stand."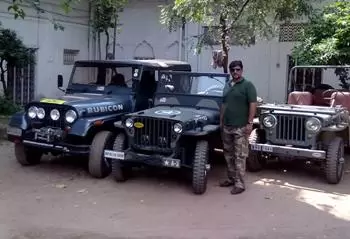 Owner's pride: Bhopal resident Rizwan Mohammad Khan standing next to his three jeeps
Because jeeps were used in hunting, most of them have a net carrier behind. So, if you ever wondered what the nets were all about, you have the answer.
"After Hamidullah Khan, the residents of Bhopal who had farm houses on the outskirts preferred jeeps as they helped them in carrying foodgrains and enabled picnics," says Rajendra Kothari, economic analyst.
"I have modified unlimited number of jeeps. The jeeps on which I worked were from Jaipur, Kota, Mumbai, Pune and Chennai," says Mohammed Zamir, a jeep mechanic.
The expert mechanic has got two modified jeeps and one jeep is worth Rs.15 lakh today.
Film director Prakash Jha had also used a Bhopal jeep in his film "Rajneeti".
Twenty-four-year-old Hamid Pervez is now a celebrity thanks to his Kaiser air-conditioned jeep (1956 model) and Dodge 1942 model 'Super Jeep'. The Fox History channel had recently aired a programme on his rare jeeps.
Locals have also gifted Bhopal's modified jeeps to Bollywood stars including Sanjay Dutt and Arbaz Khan.
So the next time you visit Bhopal, take a ride in one of them and enjoy the city of lakes. - IANS

Trending Now: