A girls' school in a UP village pays Rs.10 every day to the students
08-October-2011
Vol 2&nbsp|&nbspIssue 40
Sam (Virendra Singh) retired as one of the top bosses at DuPont. But instead of settling down in a shiny happy American suburb, he returned to Anoopshahr, a small village in Uttar Pradesh's Bulandshahr district, to start a girls' school that pays girls to stay in school.

"I never did social work in my life. I was born in a feudal family and did 'macho' work all my life," says the septuagenarian founder of the Pardada Pardadi vocational school for girls.

After 35 years in America, Sam realised he was never one of them; he was always conscious of his identity as an Indian.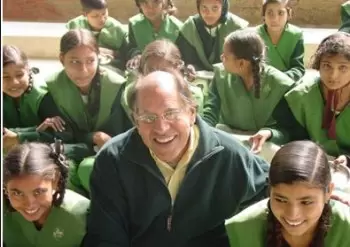 Good growth: The school started with just 35 students in 2000, but now has a strength of around 1000 girls (Photo courtesy: Infochange News & Features)
In 1984, Sam was in charge of DuPont's Virginia plant. When the Bhopal gas tragedy happened, he had the uneasy feeling that his employers would trust him less as manager of a chemical plant because he was Indian.

He couldn't deal with the India that was portrayed in the West -- poor and underdeveloped. He wanted to transform that sense of shame into something productive.

So when it was time to retire, Sam knew he wanted to go back to the village where, for generations, the women in his family weren't important enough to be mentioned in the family tree; they were invisible wombs to bring male heirs into the family.

The literacy rate for women in rural Uttar Pradesh is 43%. In a strongly patriarchal society there is little incentive to send girls to school and, in 2000, when Sam started Pardada Pardadi, many girls were marrying at the young age of 13.

Starting with an initial group of 35 students in 2000, today the school boasts around 1,000 students. Fifty have graduated from the first four batches of Class 10; some of the graduates went on to study fashion designing, become teachers, get jobs in places as far away as Delhi.

When I interviewed Sam in his office at the school, he interrupted me, saying, "Look!" A long line of women were walking back from a day of collecting grass. They were led by a child of six or seven dressed in a government school uniform.

According to the records, 94% of Indian children are enrolled in government schools. But that's only on paper. They get their free uniforms and attend school only occasionally for the free midday meal.

I wanted to pull out my camera to photograph the women carrying bundles of grass, but Sam said: "Don't worry. They will be here every day. You haven't missed a photo-opportunity."

It is to this world that Sam returned, hoping to convince parents that girls too needed to be educated.

At DuPont, Sam said, his job was to analyse corporate strategy and bottom lines. And he did just that in Anoopshahr; this time the bottom line was compulsory education for girls.

The problem of the girl-child has always been an economic one. After years of attending corporate social responsibility conferences that spoke of child labour and of exploitation, Sam came away believing that development was contextual and that the western model would never fit the Indian reality.

What was important for these girls -- most of them first-generation learners -- was social and financial independence. While it is important that they have a strong academic background, they needed vocational skills that will guarantee them jobs.

Pardada Pardadi had to be a part-vocational, part-academic school. Sam decided that he would systematically target every excuse to keep girls at home and also make up for the lost hours of manual labour -- the time the girl spends in school.

He decided to offer three meals a day, clothes, books, transport and Rs 10 that would be deposited in the girl's account for every day she attends school.

The amount, approximately Rs 35,000, is redeemable after graduating, as a scholarship for further studies. After two years in school, a girl is entitled to a free bicycle (depending on how far away from school she lives) and, after three years, the school funds the construction of a toilet at her home in the village.

Sam initially funded the entire process with his savings.

In the mornings, students attend regular classes and in the evenings they learn hand embroidery and machine embroidery to make products that are sold at outlets in Delhi and online.

Take the case of Mamta, mother of three girls and a son. Her husband is a migrant labourer who rarely visits his family in the village. Mamta tailors clothes for the village, earning around Rs 1,500 a month.

She has never been to school. When we visited her at home, she played the charming host calling to a child outside to buy us some Parle G biscuits to go with the hot sweet chai she had made for us.

She told me she planned to educate her daughters as much as possible because she could not afford a dowry and she wanted them to get jobs, to never be in the position she was in.

She asked if she could be employed at the school's vocational department as a tailoring instructor. The community worker who had accompanied us promised to consider her request.

The real change that the school has brought about can be sensed in villages where women like Mamta have a new voice and dream of options for their daughters that they never had. It's women like Mamta that Sam wanted to target with incentives; incentives that were tangible.

Another deterrent to girl's education is puberty, which is when many girls drop out of school. With no access to proper sanitation, and forced to use rags during menstruation, women in the villages are vulnerable to disease and infection.

The Rags to Pads project manufactures low-cost sanitary napkins out of wood pulp and gauze, sold at Rs 5 a packet to the schoolgirls and their female relatives. The project is run and managed by graduates of Pardada Pardadi who hold full-time positions at the school.

For a society to incorporate change, success stories provide ideal fodder for the imagination.

Meet 21-year-old Priti Chauhan who joined Pardada Pardadi in the early-2000s when it first opened its doors. Priti is from the conservative Thakur community, members of which still don't allow their women to leave the house.

She finished Class 10 and decided that she wanted to be an accountant. She was employed as one by the school, and received on-the-job training. Priti says that for her mother's generation, working outside the home was unthinkable.

She is now preparing to go to Rudrapur on a paid training programme that will guarantee her a job. Faced with a choice between going to Rudrapur and Bangalore, she says: "Rudrapur is closer home. I don't want to go too far away."

But the journey hasn't been easy. People are threatened when power structures are challenged. Sam has even received death threats. He says philosophically: "I have lived a good life. I know this is where I want to be."

When asked what has changed in ten years, Sam says: "I still cannot make the girls reject caste; they will play with girls from other castes but will still refer to them as that bhangar girl or that bramhin girl.

"Some things though have changed for the better. Girls are intellectually receptive to new ideas, new options, and that is half the battle won. Now they say that they should get a job and marry late, even if they do succumb to pressure from their families."

Neetu Tomar is 23 years old. She works in the health department of the school, managing vaccinations and other health-related programmes for the students. She is currently taking the entrance examination for a nursing course. "I told my younger brother to get married because I have no plans of marriage now. I want to be a nurse," she says.

Lajjavati, a young mother of four daughters, told me: "We want our daughters to go to school, but not if they graduate and don't want to marry at the right age or marry within the community." - Infochange News & Features

Trending Now: