A broth from the past tickles the taste buds of Delhi's modern gourmet
Mohita Nagpal
&nbsp | &nbsp New Delhi
07-October-2011
Vol 2&nbsp|&nbspIssue 40
It was originally a morning meal for the poor. Rich in texture and weighty on the stomach, the meaty Mughal era broth called nahari used to suppress fresh bouts of hunger till twilight.
Some say it was the winter preserve of a determined few who did the bidding of their taste buds even on bitterly cold mornings. It was also considered a nourishing preparation that magically rid people of flu.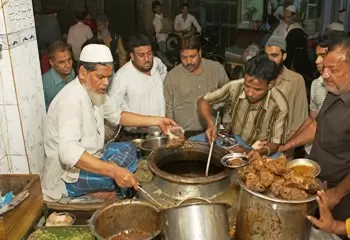 Gourmet's delight: A plate of nahari costs Rs.30 and visitors to Delhi tuck into it even before checking in at their hotels (Photos: IANS)
But the new-age nahari fan doesn't eat it to kill hunger, nor does he savour it only in winter. He may also be blissfully oblivious to its medicinal properties.
Thanks to economics and what foodies call its unforgettable taste, the dish made of buffalo bone marrow has turned into a fascinating all-weather delicacy.
At Gaffar Nahari Wala - a 90-year-old shop near Jama Masjid in old Delhi - Abdul Gaffar, grey-haired and shrivelled, says nahari is a 12-month business now.
"Some two decades ago, we started selling nahari in evenings as well. There were people who wanted to eat, but could not make it in the mornings. We couldn't turn a blind eye to business. Now we sell more in the evenings," says the 80-something Gaffar.
At the counter, the cook sits next to a pot emitting mouth-watering clouds of steam. Armed with a huge table spoon, he pokes the tender meat, and takes it out on a steel plate, some meat chunks accompanying the broth.
The waiter-cum-deputy chef pours some insane quantity of butter over it, showers ginger flakes and chopped green chilli, and hands over the vivid presentation to Iqbal Khan, who's busy wiping his first plate of the last trace of curry with chapatti.
A Mughlai delicacy eaten with tandoori roti, it takes eight hours of slow flame and an array of spices to produce the thick, smooth-textured nahari.
"You won't believe it, but people send nahari to their relatives in the Middle East from India. They freeze it for one-two days. The ghee in it freezes completely, so it does not get detected at airports," Iqbal says smilingly, defying the geometry on his face that gives him a permanent smirk.
A few lanes away, Naim is tearing into his nahari with the ferocity of a man who won't see food again. Sitting with two suitcases and a curious appetite, the Rajasthan resident dropped in straight at Shabrati Nahari from the railway station - even before checking in at a hotel.
"Most of our clients are from outside Delhi. People from Jaipur, Ajmer, Agra, Haryana and Mumbai make it a point to eat nahari when they come here for work," says Mohammad Shuaib Illyas, owner of the shop.
The 29-year-old says it's one of the three oldest nahari shops in the capital and was started by his late grandfather, Haji Shabraji. There's an elaborate secret recipe, which he inherited along with his last name.
Even the cook does not know some of the spices he puts in the dish. All he knows is that it takes eight long hours for the meat to tenderise. Some 20 kg is consumed in the morning and roughly 30 in the evening.

A plate costs Rs.30, a quantity enough to satiate one's hunger but not always the taste buds.
Legend has it that nahari came into being during the Mughal period following a flu outbreak in Delhi.
In Delhi, there's no single undisputed nahari king. But each area has its own favourite-typically a dilapidated shop with no board for identification but a hundred eager fans to give directions.

There's Hari Noora in the Bara Hindu Rao area, Zafar ki Nahari in Seelampur, Kallu Ustad in Old Delhi...each with its own cult, its own enviable following. - IANS

Trending Now: