Sport climbing will gain popularity only if it is included in the Olympics
22-September-2011
Vol 2&nbsp|&nbspIssue 38
Why do you want to climb Mount Everest? "Because it's there," said English mountaineer George Mallory. However, that can't be the case for everyone. So what do people do if they want to climb mountains but do not have access to them? Well, that's where sport-climbing comes in.
For the uninitiated, sport-climbing involves scaling a steep artificial wall which has rough, uneven, rock-like features. There are three kinds of climbing one can do: lead climbing, speed climbing and bouldering.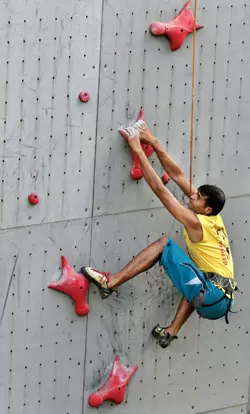 Climb higher: Sport climbing is set to gain popularity among Indian youth in the coming years (Photo courtesy: The Sunday Indian)
Sport-climbing is a group effort in which a climber is supported by a person who fixes ropes. However, in bouldering, a climber scales smaller artificial rocks and it does not generally involve any gear or support.
Indian Mountaineering Foundation (IMF) is the apex national body which has regularly organised the National Sport Climbing Competition since 1995. There are 181 walls in India.
IMF, Himalayan Mountaineering Institute (HMI) and Nehru Institute of Mountaineering (NIM) are some of the top-notch mountaineering training institutes.
Sport-climbing, a draw for the young, is essentially an art. "I started climbing when I was 11. As a kid, I used to enjoy climbing the compound walls and trees. I didn't know sport-climbing existed till I read an article about an international climbing champion, Archana. And then there was no looking back," reminisces international youth climbing champ Chea Marak, in whom India has pinned its hopes for a medal at the forthcoming European Championships and world championships.
Sport-climbing not only requires physical strength but also mental endurance. "Climbing needs not only physical strength, it needs mental strength too. Climbers need to do memorisation, visualisation and adequate meditation before climbing," says Keerthi Pais, chairman, IMF.
Mental strength is particularly required in lead climbing, in which climbers have only six minutes to observe the route which has been set on the wall. In lead climbing, the one who reaches the top (or farthest up the climbing wall) wins the competition; in speed climbing, two climbers compete to climb up a wall head-to-head to hit a buzzer atop.
Government and corporate support, together with adequate media coverage, could make a difference to the sport, feels Pais. "There is life outside cricket. Media should shift their focus to other sports too."
Eight-time national champ Praveen CM says: "Any sportsman would feel sad when a particular sport gets the limelight and his sport is neglected." When sport-climbing gets into the Olympics, people may recognise it better, he believes.
IMF gets its annual funds from the Union ministry of youth affairs and sports. However, this is not enough to hold more than one event a year.
"The government went bankrupt after the CWG scam and the 2G scam. So we have to organise competitions ourselves," said DVLN Ramakrishna Rao, former director-general, Indo-Tibetan Border Police and present president of IMF. "We've decided to seek corporate funding," he says.
IMF director, Col (retd) J.P. Bhagatjee, says: "The series of recent scams has affected us. But we have managed to organise competitions and other events successfully with the help of some private firms and state governments."
Karnataka tops in producing champion climbers; top climbers such as Chea Marak, Praveen CM, and Bharath SP are all from Bangalore.
"On weekends, hundreds, if not thousands, go out climbing in Bangalore," says Pais.
"I haven't seen such support in other parts of the country. That is the reason why climbers from Bangalore excel in every competition," says national coach Ningombam Chitrasen Singh, whose youth team recently won three medals in the Asian Youth Climbing Championship held in Singapore.
South Korea tops the world climbing chart followed by Japan, China and Indonesia. India ranks fifth.
But with sport-climbing becoming popular not only among the army but also in IT and other corporate sectors, Pais feels India will outshine other countries soon.

Published by special arrangement with The Sunday Indian


Trending Now: