The woman who broke the story of Roop Kanwar's sati is now a folk singer

Sudha Narasimhachar
&nbsp | &nbsp Bangalore
22-September-2011
Vol 2&nbsp|&nbspIssue 38
Kabira khadaa bazaar mein, liye lukaathi haath
Jo ghar baare aapna, chale hamaare saath!
(Kabir stands in the market, flaming torch in hand.
Burn down your home, then come walk with me!)

Lovely couplets like this awaken the mind as Shabnam Virmani and her co-singer Namrata render them in folk style on a serene summer evening in an open air theatre.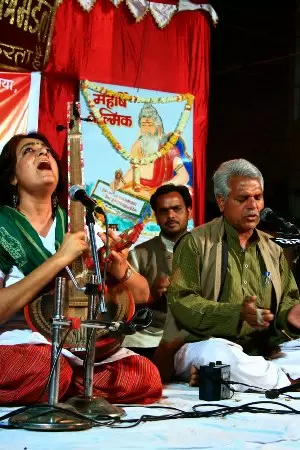 Soulful singing: From journalist to film-maker to folk singer, Shabnam Virmani has come a long way
The loud and confident rendition with interesting explanation in between makes one seek the reason behind Shabnam 's obsession with Kabir Das - the 15th century mystic poet of North India.

"My search for Kabir started in 2002. I was living in Ahmedabad when Godhra happened and I witnessed the anti-Muslim pogrom which unfolded in Gujarat. Immediately Kabir seemed to call out, 'Sadho, dekho jag baurana! (Oh seekers, see the world's gone mad!)'. I instinctively felt, yes, this man is saying what I feel," reminisces Shabnam.

Shabnam had begun her career in journalism in The Times of India in Jaipur in 1987. Just a few months into her journalistic journey, she made history when she wrote about Roop Kanwar's Sati that happened in Deorala Village of Rajasthan.

Her article was one of the triggers for a vibrant women's movement that led to the ban on Sati and gave a fillip to the Women's Liberation movement of the country. However, she decided to quit journalism.

Later, she won a scholarship to do a Masters degree in Development Communication at the Cornell University, United States, where she tried her hand in film-making.

'Have a Nice Day' was her first one, a 20-minute narrative film on the subject of her alienation, as an Indian student trying to come to terms with North American culture.

"I was keen to engage in communication that would break down literacy barriers. Films seemed to be the best way of doing that," she says.

Her films like 'When Women Unite' about the successful anti-liquor movement of rural women of Andhra Pradesh and 'Tu Zinda Hai', which was about successful women activists of Madhya Pradesh and a series of one-minute documentaries have been telecast on major television networks of the country and have won a lot of acclaim.

She has directed several award-winning documentaries and radio programs in close partnership with grassroots women's groups in India. In 1990, she co-founded the Drishti Media, Arts and Human Rights collective in Ahmedabad.

Shabnam started the Kabir Project in 2002 when she was invited as Artist in Residence at the Srishti School of Art, Design and Technology in Bangalore.

In 2003, Shabnam set out with her camera, venturing into diverse socio-cultural, religious and musical landscapes, meeting with the people who sing, love, quote, and revere Kabir.

The result of her six-year old quest into the interiors of Rajasthan, Gujarat, Madhya Pradesh and even Pakistan have been four beautiful documentaries, a number of music CDs and books of poetry (translated into English) on Kabir.

Her documentaries 'Kabira Khada Bazaar Mein', 'Koi Sunta Hai', 'Chalo Hamara Des' and 'Had-Anhad' are all about Kabir Das.

"As I set out on this journey, I realized there is not one Kabir but many Kabirs. Each region has adopted Kabir in its own way, added its flavor of the dialect and accent to the thousands of couplets orally rendered by Kabir."

During her journey for film-making, the deep immersion in Kabir music inspired her to start singing herself, and she has imbibed the gusty folk spirit from her guru Prahlad Tipanya and others singers.

In Her documentaries we discover how even ordinary people like the fruit-vendors, bus passengers and village folk singers have imbibed the highly abstract philosophies contained in the Kabir Dohas (couplets).

Now the Artist in Residence at the Shrishti School of Art, Design and Technology in Bangalore, who is a mother of a teenage son, is studying more such Sufi and mystic poets.

But where does she belong to? "In one sense, I belong to every place. I am a Punjabi and my ancestors are from Pakistan. I was born in Punjab, brought up and educated in Delhi, worked in Gujarat, Rajasthan and Madhya Pradesh and now in Bangalore."

Trending Now: