The monsoon is the time for street vendor to switch over to corn
Mohita Nagpal
&nbsp | &nbsp New Delhi
18-August-2011
Vol 2&nbsp|&nbspIssue 33
Tea, pakoras, jalebis, coffee, books, cigarettes and rum...but how can Indians romance the rains without the good old bhutta? Few things can match the subtle high of biting on freshly-roasted corn on the cob amid raindrops falling all around.
Come monsoon and entire families turn vendors as they line up in rows on the streets, fanning bhuttas over charcoal in a synchronised manner - a drive through Delhi, Punjab or even Uttarakhand in north India unveils similar scenes.
It's difficult to pass by a makeshift bhutta stall and not be captivated by the delectable aroma of roasted corn. The way a vendor dips half a lemon in chilli-salt powder and then assaults the corn cob with it sets you salivating in anticipation.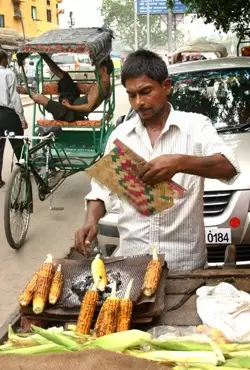 How romantic: Few things can match the subtle high of biting on freshly-roasted corn on the cob amid raindrops falling all around. (Photo: IANS)
Talib, 27, sells peanuts, watermelon and corn cob, depending on what time of the season it is. A month back, he wrapped up his watermelon cart and went to the Okhla mandi in the capital to stock up on bhuttas.
He has priced the corn cob at Rs.4, Rs.5 and Rs.10. Ask him why the different prices and straight comes the reply - the 'grahak' or customer.
"No one minds paying Rs.10. I charge Rs.5 from those who are poor. After all, this is one snack both the rich and the poor have off the street -- not worrying about the hygiene," says Talib, while peeling the skin off some more bhuttas.
Even as he gives himself a self-congratulatory grin, a largish, market-ready woman and her dainty daughter stop by his stall. He doesn't even have to give them a sizable glance to gauge their money-spending abilities. She pays Rs.10 without an iota of protest.
The bhutta vendors are out on the streets like every time. Even before the first rains, scores of vendors, mostly migrants, make a beeline for the wholesale vegetable markets and stock on corn cobs.
Mainly produced in Karnataka, Andhra Pradesh, Bihar, Madhya Pradesh, Uttar Pradesh and Rajasthan in India, maize has for long been an a monsoon relish, way before boiled sweet corn made its way to urban markets.
Neha Kapoor likes her maize smeared with lemon till it starts glistening. "It's the best snack for the evening. It's so affordable that you don't even mind having it every day," said Kapoor
But affordability is just one of the virtues of the humble snack, its health benefits is another.
Corn is said to be high in Vitamin B1, B5, C, apart from being rich in fibre which helps in easing bowel movement.
"Bhutta is one snack that doesn't give me any guilt. Though my mouth waters for jalebis and samosas as well, they don't help my weight which is already ashamed of itself," chuckles Rhea, who works in a publishing house in central Delhi. - IANS

Trending Now: