Where children conduct their parents' marriage
Ranjana Narayan
&nbsp | &nbsp Saputara (Gujarat)
10-August-2011
Vol 2&nbsp|&nbspIssue 31
Among the Bhil tribal community in Gujarat's Dang district, youth very often conduct the marriage of their parents! This is among the many quaint customs this broad-minded community has been following from age-old times.
According to Dayabhai Patel, a tribal from the area in southern Gujarat, the Bhils follow a tradition where if the parents of the bride are too poor to conduct the marriage, the girl is sent off with the boy after a formal engagement.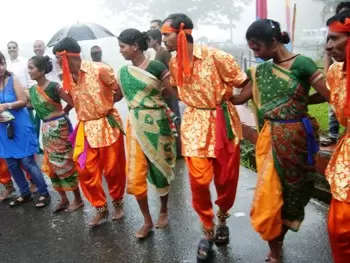 Enjoying life: The Bhil tribal community dancing at an event in Saputara (Photo: Ranjana Narayan/ IANS)
"It is a Bhil custom. The girl is sent to live in the husband's house and they have kids. When the children grow up, they first marry off their parents before their own marriage," says Dayabhai, a driver with the Tourism Corporation of Gujarat Ltd (TCGL)
Farooque Pathan, a tourist officer with TCGL said: "The tribals are very practical. Sometimes, parents conduct the wedding of their children a few years after the engagement. So, you could have the bride taking the marriage vows with her baby in her arms."
Dayabhai, elaborating more on the tribal way of life, said: "People here were very poor. Hardly anyone possessed a radio, and a television was a novelty. If someone had a TV set, people would come from far off just to see it. But now things have changed. Some people are educated and hold jobs." - IANS


Trending Now: