Apart from beauty, Dharmasala, the Tibetan settlement, throbs with humanity
Sneha Theeng
&nbsp | &nbsp Dharamsala
04-August-2011
Vol 2&nbsp|&nbspIssue 31
The mountains call out to me every now and then, so this time when the rains came down, I decided to pack my bags and head up the hills. I was going there for the vistas, the music of the wind in the willows, the cascading waterfalls... I wanted to know the land and its people and how they meshed together. So I tried a new route this time. They call it voluntourism.

The winding road up the hill to Dharamsala was a road to remember, cutting through forests and streams and stray clouds. The valley and the plains below looked spectacular. On finally reaching McLeod Ganj, I was greeted with a cup of hot lemon ginger (a specialty of the area) by a very hospitable contact of Volunteer in India, Vikas Nehria, who would be my guide for the next 2 days.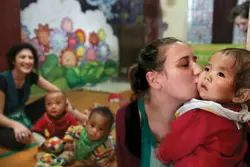 Baby care: At Rogpa, they take care of babies of poor Tibetan couples (Photos Courtesy: G & B)
I accompanied Vikas to various NGOs and witnessed a variety of volunteer projects available in this small town. As I walked to visit the NGOs, I saw numerous monks in their maroon robes, counting their prayer beads. Most of the NGOs here are dedicated to the rehabilitation of the Tibetan Refugees. The Hope Centre, for instance, focuses on teaching English in what they call the Conversation class. Its founder, Kunsang Tenzing, says "Generally Tibetans are really shy, they hardly speak.
Here we give them confidence to share their thoughts." Learning Ideas for Tibet (LIT) also functions on the same lines. Rogpa (meaning 'help') is a baby care centre run by an enthusiastic couple for those Tibetans who are too poor to take care of their kids on their own. As soon as I entered the room, I was greeted with an enthusiastic "Tashi Delek" (Tibetan greeting) and bright smiles from little kids with red apple cheeks. How could one not want to bring a smile to at least one such face?

In addition to visiting the NGOs dedicated to Tibetan rehabilitation, I also got the opportunity to visit NGOs dedicated to other causes like Harmony With Nature (HWN), which was started to help the mentally weak and make them join the mainstream by the age of 20.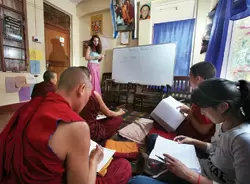 Giving hope: Most NGOs in Dharmasala are dedicated to the rehabilitation of the Tibetan refugees
I met up with other voluntourists and they seemed thrilled with the idea of doing their bit. Abhiram, an NRI working with the Hope Centre, says he opted for volunteer tourism because it would give him "inner satisfaction". Julia, a young girl who was on her summer break, mentioned that she loves taking care of the babies at the Rogpa.
Well, to each his own, I guess. Time flew like the clouds here while I spent my remaining days flitting between classrooms and waterfalls, in tune with the pitter-patter of the rain and delightful little voices wishing me tashi delek. Before I knew it, it was time to go home and as I reclined in my seat for the long journey home, I closed my eyes and smiled, happy and fulfilled. It was a new journey to an old destination and one I would never forget for the beauty I found, within and without.

Published by special arrangement with G & B

Trending Now: