Point 10 Solutions has a business model for even tribal women

Kavita Kanan Chandra
&nbsp | &nbsp Mumbai
29-July-2011
Vol 2&nbsp|&nbspIssue 30
Jatin Chaudhary, co-founder and CEO of Point10 Solutions, came face to face with the tribal women of Dangs, a tribal district in Gujarat, by chance. Some time ago, 27-year-old Jatin had visited the jewellery stall at a traditional food festival, and was enamoured by the beautiful handcrafted beaded and crystal earrings and necklaces he saw there.

Talking to the tribal women at the stall, he learnt that it was just two days of training under the aegis of state forest department that had brought their latent creativity to the fore.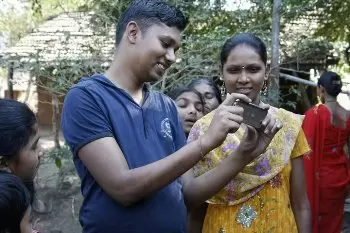 Playing mentor: Jatin Chaudhary (seen in picture) works among the tribal women in Dangs and helps them market their jewellery
However, their skill did not provide them a sustainable livelihood. They would be again back to the grind, doing labour intensive work.
Jatin identified the potential for social entrepreneurship. He decided to provide training, raw materials, knowledge resources and other support to them through his Point 10 Rural Shakti Mission, pay them adequately, and then market the product with brand name 'SweetlyDesigns'.

Jatin, who had struggled hard in life, started 'Point10' in 2009. The tagline 'We might not do good business, but we will definitely do business for good', encapsulates his business philosophy.

His company focuses on education reforms, rural empowerment and promotes entrepreneurial culture among youth.

"We have been able to pay Rs 60000 to the group of 15 tribal women engaged in jewellery making for the last six months. We want to market these products in such a way that purchasers become aware of Dangs tribal women," says Jatin, a B.Tech (IT) graduate from Nirma Institute of Technology.

For this purpose he started Sweetly Campfires, a programme to take visitors on a trip across the beautiful Dangs - a predominantly tribal district where 75 percent people live below poverty line - and meet the tribal women belonging to a self help group, Adesh Mahila Mandal in Sajipara village near Ahwa.

Their online store (http://sweetly.in/) was launched recently where they showcase these women and their stories. With modestly priced jewellery starting from Rs100, they intend to market it globally.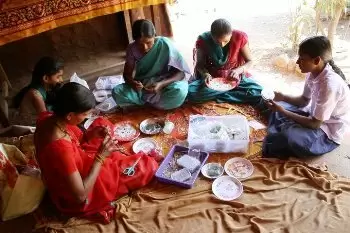 Deft workmanship: Tribal women engaged in jewellery making
Emily Cunningham, a student of Economics from Harvard University visited Dangs and has joined hands with Point10 to develop a business model where she would scout offshore market for the products.
Jatin was elated when he received the GCCI (Gujarat Chamber of Commerce and Industries) -Youth Wing Business Idea Award-2011 for Sweetly Designs.
Having spent his childhood in a 'chawl' - they are 4 to 5 storied buildings with about 10 to 20 tenements on each floor - in Ahmedabad, Jatin was the first in his family to ever complete schooling.

He lost his father, a watchman in 'Apna Bazaar' in Ahmedabad, when he was in the first year of engineering college.
As he talks about his complex of being in a class full of rich kids and computer savvy students when he never had access to computers, he also recounts a sarcastic remark of his director. "The director said that I should quit studying and go back to farming, since he felt I was not fit to be called a Nirma alumnus."

But Jatin was destined for better things and he proved his mettle soon after he got employment. "I started with a monthly salary of Rs 3500 in a call centre and then worked as Business head, Consultant and Sales Manager. My salary grew to Rs 45000 in just four years," he says.
Now he has students doing internship at Point10 working on projects related to education reforms. They have funded books worth Rs 2 lakhs to hundreds of needy engineering students. He is proud that one student, Akash Domadiya won first place for his business idea in the same competition that Jatin's 'Sweetly Designs' was awarded.

Through Entrepreneurs 10, a forum that happens every month in Ahmedabad, they have formed a network of over hundred entrepreneurs.

They also have Entrepreneurs Chai (E-Chai), a discussion forum where 2-3 start-ups are invited to pitch their ideas and the others provide feedback. Over fifty start-ups have been associated with E-Chai.


Trending Now: