Under media glare, Indian politicos go fashion forward
Nivedita Sharma
&nbsp | &nbsp New Delhi
19-July-2011
Vol 2&nbsp|&nbspIssue 28
Under constant media glare, Indian politicians are leaving behind their socialist look to make fashion statements before a new and demanding generation of voters, albeit in native cultural style. From the elderly Sheila Dixit to the graceful Sonia Gandhi to the dashing Omar Abdullah, they do not hesitate to dress well in their own crisp cotton-and-silk way.
There was a time when Indian leaders would wear crumpled saris and un-ironed white kurtas on their sleeves to project an image of being one with the masses. But thanks to a changing society, these have faded to a large extent along with muted colours like white, beige and cream.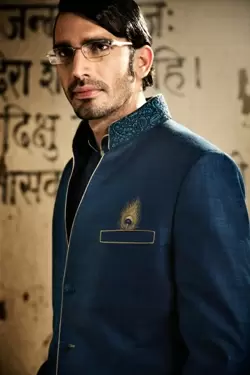 Nehru style: Politicians have inspired fashion designers. In the picture above a model is seen wearing a 'Nehru jacket' (Photo: IANS)
Designer Sunil Mehra of Study by Janak, who designs for politicians like Ghulam Nabi Azad, Salman Khurshid and Bhupinder Singh Hooda, says it's important for political leaders to dress well these days.
"Politicians today opt for different looks. For instance, if they are going for a meeting they would like to have formal wear, according to the theme of the conference. Again for a party, he or she would like to party, but with a sombre look," says Mehra.
The young breed of politicians is initialising the whole idea of looking good, says designer Sudhir Diwan of the store Diwan Saheb.
"Upcoming generations of politicians like Rahul Gandhi and Jyotiraditya Scindia prefer wearing simple clothes with a very different style," says Diwan.
Diwan Saheb supplies clothes to politicians like Omar Abdullah, Farooq Abdullah, Abhay Chautala and Ram Vilas Paswan.
"Some go for suits and bandhgalas in fabrics like linen, silk and cashmere. The reason why these politicians want to explore their attire is because they are travelling a lot and experience different cultures where they find themselves getting inspired by many new things," says Diwan.
Even the not-so-young make an impression.
Delhi Chief Minister Sheila Dixit is seen wearing ethnic saris every day - a collection many would die for. The same goes for Congress chief Sonia Gandhi's impressive array of Paithani cotton saris and handloom silks.
Designer Neeti Aggrawal believes Bollywood is also helping change the image of politicians in terms of looks.
"In Prakash Jha's 'Rajneeti', Ranbir Kapoor sported waistcoats, smart-fitted suits and designer glares, which no doubt personifies the modern leader who wants to be considered not only intelligent but also smart and appealing. Bollywood seems to have changed the perception of how politicians were portrayed on-screen a few decades back," said Aggrawal.
As far as the prices are concerned, the designer says it depends on the product.
A designer kurta-pyjama set could cost anything between Rs.7,000 and Rs.100,000. A bandhagala suit could range from Rs.30,000 to Rs.300,000 whereas a heavily embroidered sari would be priced from Rs.30,000-Rs.80,000. - IANS

Trending Now: