Women in Himachal Pradesh are fighting a war against cannabis, opium
Vishal Gulati
&nbsp | &nbsp Shimla
15-July-2011
Vol 2&nbsp|&nbspIssue 28
It's 6 in the morning and Rekha Devi is sharpening her sickle in her house in Tissa village in Himachal Pradesh's Chamba district. She then joins a group of 20 women that sets out for the nearby forests, sickles in hand, on a special mission - drug control.
"We're going to cut the wild growth of cannabis and opium in the nearby forests," says Rekha Devi. With traditional folk songs on their lips, the women daily trudge miles of rugged, inhospitable Himalayan terrain before they start physically removing illegally-grown drugs.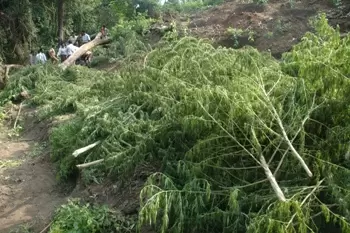 Women raiders: Himachal Pradesh police are successfully using village women to destroy cannabis plantations (Photo above shows a heap of cut cannabis plants in a Tamil Nadu forest that officials later burned during a raid.)
They have been employed by their village panchayat under the central government's rural jobs guarantee scheme – as per the Mahatma Gandhi National Rural Employment Guarantee Act (MNREGA) - for the purpose.
"Hiring villagers, especially women, under MNREGA in certain areas that are infamous for cannabis cultivation has been a great success," says Chamba Superintendent of Police, Madhu Sudan.
The job card holders have been deployed to clear cannabis from forests while police personnel are being used to destroy organised plantations, he said.
Police officials say cannabis and opium fields are grown illegally in vast tracts of Kullu, Mandi, Shimla and Chamba districts, leading to a serious problem of drug cultivation, trafficking and its use.
It was then that officials got the idea of using locals to curb the cultivation of the drug plants.
R.N. Batta, director in the state's rural development and panchayati raj department, says: "MNREGA has a provision to uproot weeds like lantana and parthenium from forests and using the reclaimed land for afforestation. Wild growth of cannabis and opium is also weeds. The panchayats are empowered to employ locals for destroying drug cultivation in the forests."
However, local sensitivities had to be kept in mind.
"The issue of destroying cannabis is a sensitive one as locals used its seeds and flowers for worship. Before they are hired by the panchayats, we used to sensitise them about its ill effects," said Kullu's Superintendent of Police Abhishek Dullar.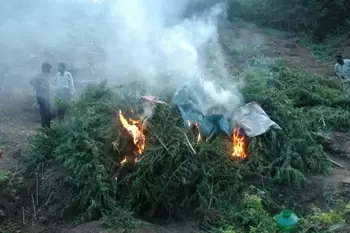 Officials make a bonfire of destroyed cannabis plants in Tamil Nadu (File photo)
The district got Rs.270,000 this fiscal for destroying opium and cannabis cultivation.
Shimla Superintendent of Police Sonal Agnihotri said a campaign would be launched in the district from July 17 by involving the panchayats against cannabis plantation.
"We have identified 689 bighas in Theog and Chopal areas that is under cannabis cultivation where the drive would be launched by involving the locals," he said, adding police would only have a "supervisory role".
Police officials said the lure of drugs and quick money is attracting more foreigners to the higher reaches and largely unexplored areas of the state.
In Kullu district the plantation of cannabis is more confined to the higher reaches of Malana, Kasol and other areas, while in Chamba district, bordering the Doda area of Jammu and Kashmir, it is done mainly in the remote areas of Kehar, Tissa and Bharmour.
The volume of this clandestine trade can be gauged from the fact that during the past 10 years, more than 7,000 kg of poppy husk and 4,000 kg of charas were seized across the state.
Among foreigners, most drug smugglers have been found to be Israelis, Italians, French and Japanese, say anti-narcotics officials.
Over 60 percent of the poppy and cannabis produced in Himachal Pradesh is smuggled out to countries like Israel, Italy, Holland and other European countries. The remaining finds its way to Nepal or Indian states like Goa, Punjab and Delhi.
O.P. Sharma, a former superintendent of the Narcotics Control Bureau, said people involved in the drug trade are luring more and more innocent villagers into the multi-billion scam.
"Alternative farming is the only way of controlling cannabis cultivation, but it is not an easy task," he said. - IANS

Trending Now: